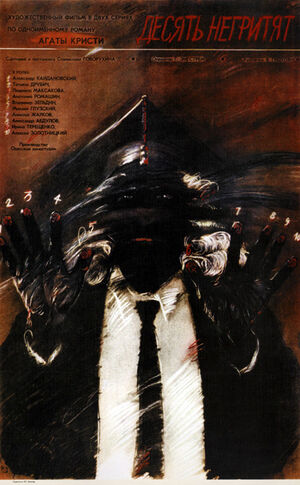 Desyat Negrityat (Russian: Десять негритят) is a 1987 Soviet film adaptation of Agatha Christie's novel And Then There Were None (the title of this version translates as Ten Little Negroes, not Ten Little Ni**ers, as Christie's original title for the book). It was directed by Stanislav Govorukhin, who also penned the script. This film is 137 minutes in length.
This version is unique in that virtually none of the novel is altered. Unlike the previous Hollywood/British adaptations of the story, none of the characters or their respective crimes are altered in any way and the film concludes with the grim finale from Agatha Christie's original novel, rather than the upbeat ending from the stage version that other adaptations chose to follow.
Cast
Plot
Ten complete strangers are invited to spend the weekend in a lonely mansion on an island off the English coast. Once there, they realize that none of them know their unseen host, who has identified himself only as "Mr. Owen." Using a prerecorded gramophone, Mr. Owen accuses them each of past murders that the law was unable to punish, and promises swift retribution. Soon thereafter the first guest dies, the victim of poisoning. The remaining guests come to realize that the killer is murdering them according to the old Ten Little Ni**ers nursery rhyme. When their attempt to locate Mr. Owen by searching the island proves fruitless, they realize that the unknown assailant is in fact one of them.