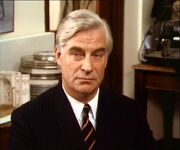 Inspector Dermot Eric Craddock, Detective-Inspector at Scotland Yard, is the godson of Sir Henry Clithering. He met Miss Marple in "A Murder is Announced" and solved the case with her help. Since then he shows up from time to time and works with the old lady together.
In the books he's decribed as a blond, good-looking man who's a good talker. He also shows some witty and sarcastic humour when he's with Miss Marple.
In "The Mirror Crack'd from Side to Side" he tells Miss Marple about his mother who died when he was a young boy. He was five or six years old at that time. He was having dinner in the nursery, and eating jam roll pudding, of which he was very fond. One of the servants had come in, and told his nursery governess that Mrs Craddock had been killed in an accident. He did not cry or say anything, and just sat there staring at the pudding. He says that even now, if he sees a portion of jam roll pudding, "a whole wave of horror and misery and despair comes over" him.
He is a Shakespeare enthusiast, and at a first glance he likened Phillipa Haymes to Rosalind from As You Like It. He himself had played Jaques in a performance of As You Like It for the Police Orphanage.
He had a great aunt Emma, who had told him that his nose twitched when he was about to tell a lie.
In the novel 4.50 from Paddington, Craddock receives a letter form Miss Marple, and goes to the Assistant Commissioner about it. The Assistant Commissioner had just received a call from the police at Brackhampton, about a woman's body being found in the Long Barn at Rutherford Hall. The Assistant Commissioner had heard about Miss Marple, and asked Craddock to tell him about the case in A Murder is Announced, where Craddock had first worked with Miss Marple. The Assistant Commissioner then assigns Craddock to the case at Brackhampton, since he already knew Miss Marple.
In A Caribbean Mystery, Craddock does not appear in person, but Miss Marple thinks of him. She thinks of how in spite of his increased status at Scotland Yard, he is still willing to believe that when she voices an opinion, there is usually something behind it.
Appearances
Portrayals