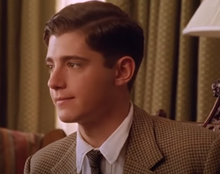 In the novel The Murder at the Vicarage, Dennis Clement is the teenage nephew of Leonard Clement, the vicar of St. Mary Mead. He is sixteen years old.
Dennis initially wanted to go into the Merchant Service, as he had failed for the Navy, and his uncle could not afford a university education for him. However, Dennis later said that he wanted to go into finance, and go into the city. After talking to him, his uncle realises that Dennis wants to get rich quickly, because he is attracted to Lettice Protheroe, and thinks that one must be rich to marry a girl.
On the day of the murder, Dennis and Lettice are at Much Benham, playing tennis with the Hartley Napiers. Lettice leaves the party early, and Dennis wants to leave with her. However, she tells him to stay, as she feels it is unfair to the Hartley Napiers if they both leave early. Dennis later hears that Susan Hartley Napier has been saying that Lettice has poor manners, and takes offence on Lettice's behalf.
Portrayals
Dennis Clement does not appear in the BBC 1986 adaptation of the novel which formed part of the Miss Marple series.
In the ITV 2004 adaptation of the novel (Episode 2, Season 1 of Agatha Christie's Marple), Dennis is played by Julian Morris. The portrayal is quite similar to that in the novel except that he is older and rides a motorcycle.