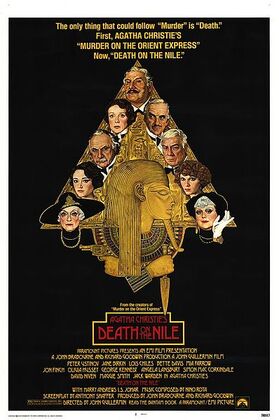 Death on the Nile
is a 1978 film based on the
Agatha Christie
mystery novel
Death on the Nile
, directed by John Guillermin. The screenplay was written by
Anthony Shaffer
. The film features the Belgian detective
Hercule Poirot
played by
Peter Ustinov
plus an all-star cast. It takes place in Egypt, mostly on the Nile River. Many of the cultural highlights of Egypt are also featured in the film, such as the Great Pyramids, the Sphinx, and temples at Abu Simbel and Karnak.
The film begins with a meeting between wealthy heiress Linnet Ridgeway (Lois Chiles) and her close friend Jacqueline de Bellefort (Mia Farrow). Jackie wants her fiancé, Simon Doyle (Simon MacCorkindale), to work for Linnet. But he and Linnet have a whirlwind affair and end up marrying. While honeymooning in Egypt, they are continually hounded by a jilted Jackie. In an attempt to get away, the Doyles board a Nile paddle steamer, the S.S. Karnak.
When the passengers venture off-shore to examine a nearby temple, a large stone is pushed off a pillar and narrowly misses Simon and Linnet. They again encounter Jackie, who boards the ship and ignores the warnings of detective Hercule Poirot (Peter Ustinov) to stay away, revealing that she carries a small pistol. After a late-night game of cards in the ship's lounge, Jackie confronts Simon. She shoots him in a drunken rage and hits him in the leg. The next morning, Linnet Ridgeway is discovered murdered in her cabin, shot in the head by a similar weapon, with almost everyone aboard the S.S. Karnak having had a reason to want to do away with the heiress. The pistol has meanwhile gone missing.
Suspect list
Edit
The elderly Mrs. van Schuyler (Bette Davis) coveted Linnet's jewels.
Miss Bowers (Maggie Smith), was forced into a life of servitude when Linnet's father destroyed her family.
The maid, Louise Bourget (Jane Birkin), was upset because Linnet refused her a promised dowry.
James Ferguson (Jon Finch), a Communist, resented Linnet's life of luxury.
Eccentric novelist Salome Otterbourne (Angela Lansbury) faced a libel suit brought by Linnet (the dead cannot be libeled).
The author's daughter Rosalie (Olivia Hussey) wanted to protect her mother.
American lawyer Andrew Pennington (George Kennedy) had embezzled from the Ridgeway family.
Dr. Ludwig Bessner (Jack Warden) was upset because Linnet made defamatory remarks about his clinic.
Jacqueline de Bellefort was upset with Linnet for obvious reasons. Poirot admits he found out all this by being a "nasty eavesdropper."
Now it's up to the Belgian sleuth, along with his vacationing friend Colonel Race (David Niven), who was representing Linnet's British lawyers and investigating Pennington, to solve the mystery.
Investigation
Edit
Jackie is a natural suspect but has a perfect alibi, having been sedated and observed by Miss Bowers all night. Simon Doyle was also unable to commit the crime due to his leg wound. Poirot is convinced someone on deck overheard the argument, removed the gun and used it to kill Linnet.
A bundle had been found in the Nile. The missing pistol is wrapped in Mrs. van Schuyler's stole, which was apparently used to muffle the sound of a gunshot and prevent scorching, as seen around Linnet's injury. A handkerchief was also included, stained with red ink, some of which was found in Linnet's pearl nail-varnish bottle.
While Poirot and Race conduct their investigation, the maid Louise is murdered. Her throat has been cut with one of Dr. Bessner's scalpels and a fragment of a banknote is found in her hand. Poirot realizes she probably saw the murderer coming out of Linnet's cabin and attempted to extort money in return for her silence. Salome Otterbourne claims to have seen Louise's murderer and is about to tell Poirot when she is shot in the head through an open cabin door with Pennington's revolver, too large to have been used on Linnet.
With several suspects eliminated, Poirot gathers everyone in the saloon, where he reveals the solution — Simon Doyle murdered his wife, with Jacqueline as his accomplice. Poirot reveals that Simon and Jackie were still lovers, and his marriage to Linnet had been cleverly plotted in order to gain her money. They faked Simon's shooting, leaving him free to murder Linnet while the doctor was being fetched by Ferguson and as Jacqueline was attended to by Miss Bowers. Simon was left alone long enough to run to Linnet's room, shoot her in the head, return to the lounge and shoot himself in the leg through the stole - a third shot of which no one was aware. Jackie covered up. She stole the knife and revolver, then killed the maid and Salome Otterbourne. Simon and Jackie point out that Poirot has no proof, so Poirot convinces Simon that his hands could be tested for grains of gunpowder removed with wax. When they realize that they have been found out, they confess, and in a final love embrace, Jackie covertly takes back her pistol and shoots Simon, then herself.
Later Poirot says goodbye to the remaining guests, reveals that the test was made-up, and Rosalie and Ferguson announce that they are engaged.
Peter Ustinov as Hercule Poirot, the famous Belgian detective
Lois Chiles as Linnet Ridgeway Doyle, a beautiful heiress with many enemies
Simon MacCorkindale as Simon Doyle, Linnet's handsome husband
Mia Farrow as Jacqueline de Bellefort, Linnet's old school friend, formerly engaged to Simon
Jane Birkin as Louise Bourget, Linnet's maid
George Kennedy as Andrew Pennington, Linnet's embezzling lawyer
Bette Davis as Marie Van Schuyler, a rich kleptomaniac
Maggie Smith as Miss Bowers, her companion whose family was ruined by the Ridgeways
Angela Lansbury as Salome Otterbourne, an exotic novelist Linnet is suing for libel
Olivia Hussey as Rosalie Otterbourne, her delicate, devoted daughter
David Niven as Colonel Johnny Race, Poirot's friend
Jon Finch as Mr. James Ferguson, a communist who resents Linnet's wealth
Jack Warden as Dr. Bessner, a Swiss doctor whose methods Linnet deplores
Celia Imrie as Maid
Harry Andrews as Barnstable
Sam Wanamaker as Rockford
I. S. Johar as Mr. Chaudhry, manager of the 'Karnak'
Saeed Jaffery as a Servant on the Karnak
Production
Edit
The film shot seven weeks on location in Egypt, four on the steamer Karnak (SS Sudan) and the rest at places such as Aswan, Abu Simbel, Luxor, and Cairo. Desert filming required makeup call at 4 a.m. and shooting at 6 a.m. to accommodate a two-hour delay around noon when temperatures hovered near 130 °F (54 °C). Bette Davis wryly commented, "In the older days, they'd have built the Nile for you. Nowadays, films have become travelogues and actors stuntmen."
During the shoot, troubles arose as no hotel reservations had been made for the crew. They were subsequently shifted from hotel to hotel, sometimes on a daily basis. Director Guillermin was never allowed to see the rushes. By order of the producers, footage was sent directly to them in London. A lighter moment occurred during a love scene between Chiles and MacCorkindale, when a hostile desert fly landed on Chiles's teeth. The actors carried on as best they could, but the crew burst out laughing when Guillermin thankfully called "cut" and ordered another take.
Costume designer Anthony Powell paid impressive attention to detail, eventually winning an Oscar for Best Costume design. Among his touches were shoes for Chiles that featured diamond studded heels that came from a millionaire's collection and shoes worn by Davis made from the scales of twenty-six pythons.
Marketing
Edit
In order to tie in with 1974's successful adaption of Murder on the Orient Express, the film was initially titled Murder on the Nile before it reverted to the novel's original title. Artist Richard Amsel was commissioned to redesign the poster art from an image of the Karnak steamer to an image suggesting King Tutankhamun with ceremonial knife (and modern revolver), surrounded by the cast, which again recalled the earlier film. (see info box)
Death on the Nile was initially released to coincide with the sale of tickets to the Metropolitan Museum of Art's heralded exhibit of the recent findings from the tomb of King Tut, which had piqued interest in Egyptian artifacts. The film was pulled from distribution and not released until two months later when the exhibit actually opened.
Reception
Edit
Death on the Nile received generally positive reviews, with a 80% fresh rating on Rottentomatoes.com, based on 12 reviews. "Fine entertainment that is lovely to look at and easy to enjoy" and "made more watchable because of its all-star cast". Some reviews mention that it "suffers by comparison" with Murder on the Orient Express.
The film was expected to be popular with audiences following on the heels of Murder on the Orient Express, the most successful British film up to that point. However, the box office return was $14.5 million in the United States, lower than the $25 million high for Orient Express, despite its generally positive reviews and similar formula of exotic locales, sumptuous period detail, and all-star cast.
Awards and nominations
Edit
Academy Awards (U.S.)
Won (1978)
Category: Best Costume Design
Recipient: Anthony Powell
BAFTA Awards
Won (1978)
Category: Best Costume Design
Recipient: Anthony Powell
Nominated:
Peter Ustinov (Best Actor)
Angela Lansbury (Best Supporting Actress)
Maggie Smith (Best Supporting Actress)
Edgar Allan Poe Awards (U.S)
Nominated (1979)
Category: Best Motion Picture
Evening Standard British Film Awards
Won (1980)
Category: Best Actor
Recipient: Peter Ustinov
Won (1980)
Category: Best Film
Recipient: John Guillermin
Golden Globes (U.S.)
Nominated (1979)
Category: Best Foreign Film (England)
National Board of Review (U.S.)
Won (1978)
Category: Best Supporting Actress
Recipient: Angela Lansbury
Ustinov as Poirot
Edit
Community content is available under
CC-BY-SA
unless otherwise noted.