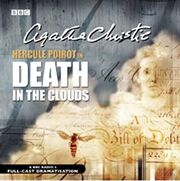 Death in the Clouds is an adaptation of the Agatha Christie novel. The dramatist was Michael Bakewell and Enyd Williams directed. It was first broadcast on BBC Radio 4 in 2003.
Summary
On a flight from Le Bourget to Croydon, on which the Belgian sleuth Hercule Poirot is an apprehensive passenger, a woman is found dead. A doctor on board is inclined to put it down to a wasp-sting, but Poirot suspects it's a case of murder...
Cast
Geoffrey Whitehead as Monsieur Fournier
Murray Melvin as Daniel Clancy
Teresa Gallagher as Jane Grey
Carolyn Jones as Lady Horbury
Ben Crowe as Norman Gale
Andrew Harrison as Jean Dupont
Bruce Purchase as Dr Bryant
Liza Sadovy as Elise Grandier
Priyanga Elan as Anne Richards
Stephen Critchlow as Airline Steward
Community content is available under
CC-BY-SA
unless otherwise noted.