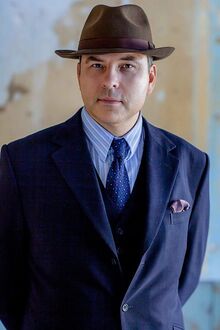 David Edward Williams (born 20 August 1971), known as David Walliams (/ˈwæliəmz/), is an English stand up comedian, actor, author, television presenter and activist, best known for his partnership with Matt Lucas on the BBC One sketch shows Little Britain,Rock Profile and Come Fly with Me.
Since 2012 Walliams has been a judge on the ITV talent show Britain's Got Talent. He wrote and starred in two series of the BBC One sitcom Big School, playing the role of chemistry teacher Keith Church.
Walliams is also a writer of children's books. By the end of 2014, he had sold over 4 million of these and has been described as "the fastest growing children's author in the UK": his literary style has been compared to that of Roald Dahl.
Early life
Walliams was born David Edward Williams in Merton, London. He was the son of Peter, a London Transport engineer, and Kathleen Ellis, a lab technician and grew up inBanstead, Surrey. Walliams was educated at Collingwood Boys' School in Wallington, and the independent Reigate Grammar School, where he was a contemporary of Robert Shearman. He changed his stage name to David Walliams when he joined the actors' union Equity, as there was already a member named David Williams.[4]
Career
Walliams performed in the Big Finish Productions Doctor Who audio play Phantasmagoria, written by Mark Gatiss.
From 2003 to 2005 Walliams co-wrote and co-starred in three series of the BBC sketch show Little Britain with Matt Lucas. The programme first aired on BBC Three before moving to the more mainstream BBC One. A successful live stage show of the series, Little Britain Live, was produced in 2006. A number of seasonal and charity specials followed, up to 2009. A spin-off series produced in the USA by HBO, Little Britain USA, aired in 2008.
In 2005 Walliams, Simon Pegg, Lucy Davis and Lauren Laverne starred in the video for Charlotte Hatherley's single Bastardo . Later in the year, Walliams presented a documentary on James Bond, entitled David Walliams: My Life with James Bond. In 2007 he returned to non-comedy television, garnering excellent reviews for his portrayal of a suave and dangerous manipulator in Stephen Poliakoff's Capturing Mary.
Walliams portrayed comedian Frankie Howerd in the BBC Four television film Rather You Than Me. In 2010, Walliams appeared with Paul Rudd and Steve Carell in the comedyDinner for Schmucks.
In April 2012 Walliams appeared in an episode of ITV's Perspectives programme entitled "David Walliams: The Genius of Dahl".[5]
Walliams played the mole-like alien, Gibbis in the sixth series of Doctor Who, "The God Complex".
On 21 March 2012 Walliams was the narrator of Are You Having a Laugh? TV and Disability on BBC Two.[6]
In 2012 he narrated the ITV2 series Top Dog Model.
In March 2014 Walliams narrated a short video for the charity, Electrical Safety First, featuring the character Charley from the Charley Says educational films of the 1970s.[7]
Walliams wrote and starred in two series of the BBC One sitcom Big School, playing the role of chemistry teacher Mr. Keith Church. The series also starred Catherine Tate,Frances de la Tour and Phillip Glenister.
In 2015 coinciding with the 125th anniversary of Agatha Christie's birth, Walliams will star in Partners in Crime as Tommy Beresford in two three-part stories of The Secret Adversary and N or M?.[8] For Comic Relief 2015, Walliams appeared as Lou Todd and Stephen Hawking in the Andy Pipkin role along with Catherine Tate as a nun.[9]
Britain's Got Talent
Since 2012 Walliams has been a judge on the ITV talent show Britain's Got Talent with Amanda Holden, Alesha Dixon and Simon Cowell.
In 2015 Walliams confirmed he was under wraps of writing a new comedy based on a Britain's Got Talent like Talent Show, Amanda Holden and Alesha Dixon will appear.
Works
Film and Television
Year
Title
Role
2004
Shaun of the Dead
Voice on TV
2005
Stoned (film)
2006
A Cock and Bull Story
Haas
Marie Antoinette (2006 film)
Hairdresser (uncredited)
2007
Run, Fat Boy, Run
Stardust (2007 film)
Sextus
2008
The Chronicles of Narnia: Prince Caspian
Bulgy Bear (voice)
Virgin Territory
Cart pusher
2010
Dinner for Schmucks
Müeller
Marmaduke (film)
Anton Harrison
2013
Justin and the Knights of Valour
Melquiades and Karolius (voice)
"Gangsta Granny"
Ben's Father
2014
Pudsey: The Movie
Pudsey (voice)
2015
"Partners in Crime
Tommy Beresford
Theatre
On 26 August 2008 Walliams made his stage debut at the Gate Theatre in Dublin opposite Michael Gambon in Harold Pinter's No Man's Land, in front of an audience that included Pinter himself. The production transferred to London later in the year.
In 2013 he played the part of Bottom in a production of A Midsummer's Nights Dream at the Noël Coward Theatre opposite Sheridan Smith as Titania.
Books
| #No. of book | Title | Book release date | Illustrator | Pages | Film release date |
| --- | --- | --- | --- | --- | --- |
| 1 | The Boy in the Dress | 1 October 2008 | Quentin Blake | 288 | 26 December 2014 |
| 2 | Mr Stink | 29 October 2009 | Quentin Blake | 272 | 23 December 2012 |
| 3 | Billionaire Boy | 28 October 2010 | Tony Ross | 288 | December 2015 |
| 4 | Gangsta Granny | 27 October 2011 | Tony Ross | 297 | 26 December 2013]] |
| 5 | Ratburger | 19 September 2012 | Tony Ross | | |
| 6 | Demon Dentist | 26 September 2013 | Tony Ross | | |
| 7 | Awful Auntie | 25 September 2014 | Tony Ross | 272 | December 2016 |
| 8 | Grandpa's Great Escape | September 2015[1] | Tony Ross | | |