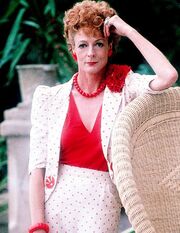 Daphne Castle is a character created for the 1982 film Evil Under the Sun. She is an amalgamation of the characters Mrs Castle and Rosamund Darnley, from the original novel.
Daphne Castle runs a hotel on an island in the Adriatic Sea. The hotel in question is the former summer palace of the reigning King of Tyrania. He gave the palace to Daphne "for services rendered". She is also an old friend of Kenneth Marshall, with whom she seems a bit flirtatious.
Daphne is portrayed by actress Maggie Smith.