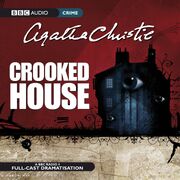 Joy Wilkinson's adaptation of Agatha Christie's novel. Directed by Sam Hoyle. Broadcast 2008.
Episode 1
Returning home from WWII, Charles Hayward is finally free to marry Sophia Leonides. However, the suspicious death of her grandfather has thrown everything into confusion.
Episode 2
Elderly wealthy businessman Aristides Leonides has been murdered. Until the killer is caught, others are in danger, particularly young Josephine, who decides to play detective.
Episode 3
After the attempted murder of Josephine, Three Gables is still in a state of confusion. However, dramatic evidence is unearthed, and it seems that Brenda can no longer avoid her fate.
Cast
Rory Kinnear as Charles
Phil Davis as Tavener
Grianne Dromgoole as Josephine
Judy Parfitt as Aunt Edith
Ben Crowe as Philip/Passerby
Simon Treves as Roger/Consul General
Rachel Sanders as Clemency
Margaret Cabourn-Smith as Brenda
Colin Hoult as Laurence/Lamb
Peter Marinker as Gaitskill
Community content is available under
CC-BY-SA
unless otherwise noted.