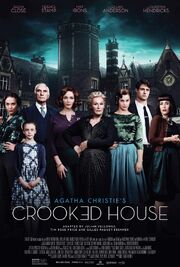 Crooked House is a 2017 film directed by Gilles Paquet-Brenner. The film is an adaptation of the Agatha Christie novel Crooked House. It is set in the late1950s, a decade later than the novel. One character refers to the execution of murderess Ruth Ellis in 1955.
Plot
The granddaughter of late Greek-British business tycoon Aristide Leonides, Sophia, visits private investigator Charles Hayward in his office. Sophia wants Charles to investigate Aristide's death, for she believes he was murdered by a member of his sprawling and idiosyncratic family.
Cast
Max Irons as Charles Hayward
Stefanie Martini as Sophia de Haviland
Glenn Close as Lady Edith de Haviland
Honor Kneafsey as Josephine Leonides
Christina Hendricks as Brenda Leonides
Terence Stamp as Chief Inspector Taverner
Julian Sands as Philip Leonides
Gillian Anderson as Magda Leonides
Christian McKay as Roger Leonides
Preston Nyman as Eustace Leonides
John Heffernan as Laurence Brown
Jenny Galloway as Nanny
David Kirkbride as Glover
Tina Gray as Miss Ackroyd
Roger Ashton-Griffiths as Mr Gaitskill
Andreas Karras as Iannois Agrodopolous
Gino Picciano as Aristide Leonides
Jacob Fortune-Lloyd as Brent
Ani Nelson as Cigarette Girl
David Seddon as Constable
David Cann as Coroner
Denis Lill as Doctor
Trevor Cooper as Cairo Spymaster
Jeremy Randall as Mechanic
Madeleine Hyland as Secretary
Reuben Greeph as Club Singer
A.J. Jenks as Club Band (as AJ Jenks)
Alex Bellamy as Club Band
James Pattison as Club Band
Timothy Mylechreest as Club Band
Ricky Gabbriellini As Journalist (uncredited)
Rudy Valentino Grant as Businessman Pass Byer (uncredited)
Petros L. Ioannou as Tommy Boy (uncredited)
Lauren Poveda as Dancer (uncredited)
Community content is available under
CC-BY-SA
unless otherwise noted.