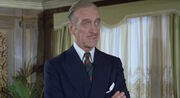 Colonel Race is a fictional character created by British mystery novelist Agatha Christie.
Race is a highly intelligent ex-Army Colonel who had a stint as a leader of the counter intelligence division of the British spy agency MI5. He is immensely rich, having inherited the fortune of "Sir Lawrence Eardsley". The Colonel starred as a detective in four of Christie's books, most notably as Hercule Poirot's good friend in Cards on the Table and Death on the Nile. He also appears in Sparkling Cyanide and The Man in the Brown Suit. He is known for his patience, composure, and ability to quickly detect facts without anyone else noticing. The Man in the Brown Suit is perhaps the only novel in which the emotional side of Colonel Race's nature has been given consideration. It gives a whole new depth to his personality.
In the novel Appointment with Death, Colonel Race is mentioned. He writes a letter of introduction for Poirot, to Colonel Carbury.
In the 1978 film of Death on the Nile Colonel Race was played by David Niven. In the same book's 2004 TV adaptation for the television series Agatha Christie's Poirot, he was played by James Fox. As Fox was unavailable for the 2006 adaptation of Cards on the Table the character was replaced by the similar character "Colonel Hughes", played by Robert Pugh. In the BBC Radio 4 adaptations of Death on the Nile (1997) and Cards on the Table (2002), Race was played by Donald Sinden. His "son" most likely invented for the program is used in the Agatha Christe Poroit The Clocks.
Naming
His first name is given as "Johnnie" by a minor character in Sparkling Cyanide. In the film of Death on the Nile, he is called "Johnny". The 2003 ITV adaptation of Sparkling Cyanide featured Oliver Ford Davies as "Colonel Geoffrey Reece".
Novel appearences
Portrayals