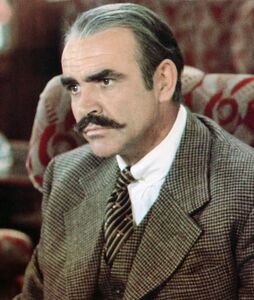 Colonel John Arbuthnot is one of the main characters in Murder on the Orient Express.
Arbuthnot has been played on screen by various actors, including Sean Connery, David Hunt, David Morrissey, and Leslie Odom Jr..
Biography
Colonel Arbuthnot was a British military officer who at the time of the events on board the Orient Express, was going home on leave from his post in India. He would later tell Poirot that he had some thirty years experience in that country. On the way he had stopped for a night to see Ur of the Chaldees and then spent three days in Baghdad as a guest of the A.O.C. (Air Officer Commanding--the senior Royal Air Force officer) who was an old friend. Proceeding from Baghdad, he took the railway convoy car from Kirkuk to Nissibin. According to him, that was where he first met Mary Debenham. He then boarded the Taurus Express brought him to Istanbul to catch the Orient Express for England.
Much earlier, Arbuthnot had become a good friend of Colonel John Armstrong whom he called "Toby". Armstrong had apparently saved Arbuthnot's life during First World War, although details of how this came about are not given. It is not clear if this event is connect to Armstrong having been awarded the V.C.
John Armstrong subsequently married Sonia Goldenberg. They settled in America and has a daughter Daisy Armstrong. At the age of three, Daisy Armstrong was kidnapped and subsequently murdered by a gangster named Cassetti. Cassetti was arrested and put on trial for the crime but got off on a technicality because of his wealth and influence.
Following this, Linda Arden, Daisy's grandmother, gathered a group of interested parties for the purpose of avenging the crime and bringing the criminal to justice. Arbuthnot, who was regarded as Armstrong best friend, naturally joined the group. Arbuthnot, in particular, was keen to have the group consist of twelve members because it would resemble a jury. It made it more in order. The planning for the group went ahead, with Cyrus Hardman, a fellow group member being sent to locate Cassetti, who had changed his name to Samuel Edward Ratchett. Thereafter two other group members managed to infiltrate Ratchett's staff. Edward Masterman managed to gain employment as his valet and Hector MacQueen became his secretary.
The Orient Express
Hector Macqueen had an insight into Ratchett's travelling schedules and was able to alert the group to a suitable journey on the Orient Express which his employer would be making from Istanbul to Europe. Arbuthnot timed his arrival to Istanbul in order to board the same train, along with other members of the group. During the journey, Arbuthnot occupied the First Class compartment 15. On the night of Ratchett's murder he had spent most of the night with Hector MacQueen it the latter's compartment discussing the situation in India and the financial situation in America and other political matters.
After Ratchett had been found murdered, Arbuthnot, like many of the suspects on the train, told Poirot that he had never been to America. Asked if he knew John Armstrong, whose daughter Daisy Armstrong had been Ratchett's kidnap and murder victim, Arbuthnot dissimulated, saying that he knew 2 or 3 Armstrongs: Tommy Armstrong in the 60th, Selby Armstrong, killed on the Somme, and Toby Armstrong. The latter was the one Poirot was concerned with. Arbuthnot claimed he never came across him but knew of him as one with a distinguished career and who had received the V.C.
Arbuthnot also revealed that he smoked a pipe--the only one among the suspects to do so. This was initially a significant clue as a pipe cleaner had been found in Ratchett's compartment. Poirot also mentioned that he had overhead a conversation between Arbuthnot and Mary Debenham at Konya station stopover of the Taurus Express but Arbuthnot declined to explain what that conversation was about. He suggested that Poirot ask Mary about it herself.
When Poirot did as suggested, Mary Debenham broke down. Arbuthnot intervened and threatened to "break every bone in Poirot's body" before escorting Mary back to the compartment. This loose end about the conversation at Konya was never explained in the book. The subsequent film adaptations attempted to supply the context.
Portrayals
Murder on the Orient Express (1974)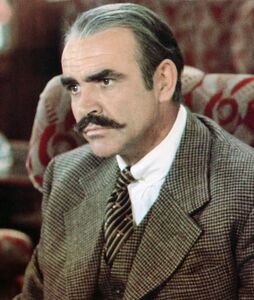 In the 1974 film, Arbuthnot is played by Sean Connery, an actor famous for playing the first generation of James Bond.
Although he is called Colonel Arbuthnot in the movie, the words on his suitcase seem to indicate the his rank is Lieutenant Colonel and that his regiment is the 12th Ghurka Rifles. The initials in front of Arbuthnot appear to be RSTJ, with S and T slightly closer together as in R ST J. Although his first name is never given in the film, a plausible construction from his initials might be Robert St John.
Arbuthnot is among the few characters not introduced with the Armstrong Kidnapping scene.
As in the original novel, Poirot overhears a conversation between Arbuthnot and Mary Debenham, in which she tells him, "Not now. When it's over, when it's behind us." But this takes on the ferry across the Bosphorus and not at Konya station.
Only in this adaptation (not in the book) does Arbuthnot explain later the context of this conversation. He says that his wife had asked him for a divorce, and he initially refused. When he discovered she had been unfaithful to him he initiated divorce proceedings siting her as the guilty party. When these proceedings were over, he intended to marry Miss Debenham.
In the murder scene, Arbuthnot receives the dagger from Linda Arden. He is the second person to stab Ratchett, saying it's for Colonel Armstrong, a good soldier, and a better friend. He then passes the dagger to Mary Debenham.
Murder on the Orient Express (2001)
In the 2001 TV movie, Arbuthnot is played by David Hunt.
Arbuthnot's name is changed from John Arbuthnot to Robert "Bob" Arbuthnot, and his occupation is changed from a British Indian Army Colonel to a software designer.
Arbuthnot is introduced in the Istanbul marketplace, talking with Mary Debenham. Mary says, "I don't want to talk about it now. When it's over and behind us, then--" before catching sight of Poirot. Arbuthnot sees him, and walks off with Mary. A similar conversation occurred in the novel, but it was in Konya, not Istanbul.
After Ratchett's murder, Poirot interviews Arbuthnot, who says that he was in Istanbul on business. He states that on the night of the murder, he was in Tony Foscarelli's compartment, together with Foscarelli, William MacQueen, and Mary Debenham.
Arbuthnot is the founder, senior manager, and CEO of DigiSaurus, a software company based out of Seattle, Washington. He uses a handheld computer, and is missing a stylus, similar to the one that Poirot found in Ratchett's compartment.
Poirot requests to borrow Arbuthnot's laptop to use in his investigation. Arbuthnot reluctantly gives Poirot his laptop, asking Poirot to be careful not to drop it.
Poirot uses the laptop to retrieve background information on Arbuthnot.
According to the DigiSaurus website, Arbuthnot was born in Chicago, Illinois, on July 28, 1954. he attended Little Indian Junior High School in 1959, Dan Blatt High School in 1965, and UCLA in 1972, where he majored in Computer Studies.
Arbuthnot and Steve Armstrong were roommates in college. While at college, the two friends created Cheetah Software, a successful operating system, in 1976. They would remain friends, even when their careers diverged after college.
10 years later, in 1986, Arbuthnot founded DigiSaurus Software, while Steve Armstrong created WizBang.
Later on, after Poirot has interviewed all the passengers, Arbuthnot furiously confronts Poirot about the interview with Mary Debenham. He says that he will not let Poirot ruin Mary's career, and demands that Poirot either solve the case or shut up about it.
In the reconstruction of the murder during the denouement, Arbuthnot is the first one to stab Ratchett. He stabs Ratchett with such ferocity that it is most likely that this stab wound is the one that killed him, as when he does so, Ratchett convulses forward and blood begins leaking out of his mouth, whereas when the others do, Ratchett does not move.
At the end of the movie, when the train has reached Belgrade Station, Mary and Arbuthnot walk away. Poirot reveals in a voiceover that they move back to Seattle and get married in a discreet ceremony.
Agatha Christie's Murder on the Orient Express (2006)
Like in the book, Colonel Arbuthnot in this adaptation is on the way back from India on leave. He had stopped by for a few days in Baghdad to visit his friend the A.O.C. He chose to go back overland instead of taking the P. & O. boat from India.
His passport gives his full name as "Colonel Francis Gordon Arbuthnot" (the first and middle names are both not given in the book). His date of birth is not given. His occupation is given as "Royal Northumberland Fusiliers", which unlike the 1974 adaptation, is not an Indian Army regiment. His address is given as "The Mews, Cheltenham".
Agatha Christie's Poirot: Murder on the Orient Express (2010)
In the 2010 adaptation, Arbuthnot is played by David Morrissey. Here he is addressed as John, the only adaptation where this first name is used.
Here also Poirot overhears his conversation with Mary Debenham but this takes place in the streets of Istanbul. He gives the same explanation as in the 1974 adaptation. Asked if he knew Colonel Armstrong he also dissimulated, saying he only knew him by reputation as a fine soldier who had fought Passchendaele and had won the Military Cross. Poirot later observed that Arbuthnot was somewhat familiar with Masterman. During the denouement, Arbithnot admitted that Armstrong was his closest friend and that Masterman was Armstrong's batman. Towards the end of the show, as it appeared that Poirot was about to turn everyone over to the Yugloslav police, Arbuthnot drew a gun and wanted to kill Poirot and Bouc. He was heading for the door but Linda Arden got in front of him and then Mary Debenham dissuaded him on the grounds that if he shot them, they would be no better than Cassetti. She told him, "We do not do what is wrong."
Murder on the Orient Express (2017)
Physical Appearance
In the novel, Arbuthnot is a tall man with a lean figure, and an age between forty and fifty. He has brown skin, a square jaw, and hair that is slightly grizzled around the temples.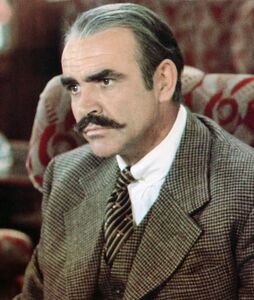 In the 1974 film, Arbuthnot has grizzled dark brown hair, brown eyes, and a moustache.

Arbuthnot's main attire throughout the movie is a single-breasted 3-piece houndstooth suit made of of brown and black checked wool with a muted red overcheck. The jacket has wide notch lapels and 3 horn buttons, the single-breasted waistcoat has 6 buttons and a tight Double Albert chain where he puts his watch, and the trousers are pleated. Underneath the vest is a white dress shirt with a rounded collar and gold collar-pin, a front placket, and double cuffs connected by gold disk links. He also wears a club tie with navy, beige, and olive stripes, and his shoes are brown leather cap-toe oxford brogues.
In the beginning of the movie, he wears a brown flat cap, a full-belted dark sand-colored birdseye flannel Norfolk jacket in brown-and-tan plaid check, with wide lapels and horn buttons. Underneath the jacket, he wears a white cotton point-collar shirt with double French cuffs fastened with gold links. He also wears mustard-yellow gloves, brown tweed "plus-fours", dark brown ribbed socks, and brown leather five-eyelet wingtip oxford brogues.

In the 2001 TV movie, Arbuthnot has light brown hair, grey eyes, and stands a height of 6 feet.

His main attire is a dark blue single-breasted jacket, a white t-shirt, a silver wristwatch on his left wrist, blue jeans held up by a black leather belt, and brown slip-on oxford shoes.
For his other scenes on the train, he wears a dark blue (almost black) suit, a light blue t-shirt, the same watch, black socks, and black slip-on oxford shoes.
In the 2017 movie, Arbuthnot has short, dark brown hair parted to the right, dark brown eyes, a big nose, and a dark brown pencil moustache.

His main attire is a grey 3-button single-breasted wool 2-piece suit with wide notch lapels, triple pleated patch pockets, and an action back. He also wears a grey crewneck sweater with 3 horizontal burgundy wide stripes on the stomach area, a startched white spearpoint collar shirt with faint brown stripes, a silver-and-green diamond patterned silk tie in a 4-in-hand knot, a pin-dotted olive green vest, trousers with forward-facing pleats, and brown cap-toe oxford shoes.
For his first scenes, Arbuthnot wears the same outfit, but without the crewneck sweater, and with a different suit. He wears a non-rolled tan 3-button tan narrow stripe two-piece suit with peak lapels, a small patterned pocket with a puff-fold, and trousers with forward-facing pleats.
Trivia
Arbuthnot and John Armstrong are the same age.
Arbuthnot only smokes a pipe.
In the 2010 Poirot episode, Arbuthnot carries a Webley .38 Mk IV "Duty Model" revolver with a 4" barrel.
In the 1974 movie, Arbuthnot carries a military suitcase that reads Lt. Col. RST J. Arbuthnot - 12th Ghurka Rifles.
There are some errors in the 2001 TV movie concerning Arbuthnot's life: The home page on his website says that he was born on July 28, 1954, but it also says this:

He graduated from Little Indian Junior High School in 1959. You must be 14 years old to graduate junior high school; Arbuthnot was 5 years old.
He graduated from Dan Blatt High School in 1965. You must be 18 years old to graduate high school; Arbuthnot was 11 years old.
He graduated UCLA in 1972. You must be 22 years old to graduate college; Arbuthnot was 18 years old.
And he co-created Cheetah Software in 1976, and according to Poirot, he and Steve Armstrong were still in college when they created Cheetah Software, and Arbuthnot was 22 years old.

The 2001 TV movie says that Arbuthnot graduated from Dan Blatt High School. This is a reference to Daniel H. Blatt, the executive producer for the film.
For the 1974 film, Arbuthnot's coat was purchased from Berman & Nathans, 40 Camden Street, London, England; his trousers were purchased from Berman & Nathans, 18 Irving Road, Leicester Square, London, England.[1]
References