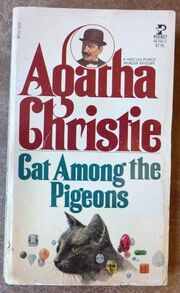 Cat Among the Pigeons is a work of detective fiction by Agatha Christie and first published in the UK by the Collins Crime Club on November 2, 1959, and in the US by Dodd, Mead and Company in March 1960 with a copyright date of 1959. The UK edition retailed at twelve shillings and sixpence (12/6), and the US edition at $2.95.
It features Christie's Belgian detective, Hercule Poirot, who makes a very late appearance in the final third of the novel. The emphasis on espionage in the early part of the novel relates it to Christie's international adventures (most notably They Came to Baghdad) and to the Tommy and Tuppence stories.
Plot introduction
At the start of the summer term at Meadowbank School for Girls, a prestigious prep school in England, there is no reason for Miss Bulstrode, the popular but aging headmistress, to believe that the challenges facing her will be more than the occasional irate or inebriated parent. She scarcely listens when Mrs Upjohn, a parent, recognizes someone that she sees from her wartime days in the intelligence service. But there is a killer at the school who does not wait long to strike.
Plot summary
(may contain spoilers - click on expand to read)
The story flashes back three months to Ramat, one of the richest countries of the Middle East, where a revolution is about to take place. Prince Ali Yusuf gives a fortune in jewels, which he needs sent out of the country, into the safekeeping of Bob Rawlinson, his personal pilot and the only person he can trust. Rawlinson complies with the prince's request, apparently by concealing the jewels in the luggage of his sister, Joan Sutcliffe, who is travelling with her daughter, Jennifer. He is seen doing this by a mysterious and unnamed woman in the next room. Soon after, both Rawlinson and the Prince are killed in an airplane crash while attempting to leave the country after their plane is sabotaged. A number of people, including British Intelligence, get onto the trail of the jewels, and their attention focuses on Meadowbank School, where not only Jennifer, but also the prince's cousin and expected fiancée, Shaista, are studying.
This term at Meadowbank there are both old and new staff. Miss Chadwick helped Miss Bulstrode found the school. Miss Vansittart has been teaching there for several years, and Miss Rich for 1 1/2 years. Miss Johnson is the girls' matron. The new staff include Angèle Blanche (a French teacher), Grace Springer (a gym teacher), Ann Shapland (Miss Bulstrode's new secretary), and Adam Goodman (a gardener, or actually an undercover British agent posing as a gardener).
Miss Bulstrode is nearing retirement, and is deciding whom to appoint as her successor. The others assume Miss Vansittart will be the successor; she would preserve Miss Bulstrode's legacy but is unimaginative and has no new ideas. But Miss Bulstrode is also considering Miss Rich, who is young and has lots of ideas but less experience. She is not considering Miss Chadwick, whom she thinks is too old (although others may assume Miss Chadwick is the second most likely candidate). But all these deliberations are cut short when Miss Springer is shot dead in the Sports Pavilion late at night, and Miss Johnson and Miss Chadwick discover her body.
Following the murder, Inspector Kelsey interviews everyone and Adam Goodman reveals his true identity to Miss Bulstrode. Meanwhile, Jennifer Sutcliffe, an expert tennis player, complains that her racquet feels unbalanced (it must have been warped in the Ramat heat), and she writes to her mother asking for a new one. She swaps tennis racquets with Julia Upjohn, who prefers Jennifer's racquet because it has been refurbished recently. Later a strange woman arrives and gives Jennifer a new racquet, saying it's a gift from her aunt Gina. The woman takes the old racquet (actually Julia's), ostensibly to return it to Aunt Gina for restringing. Later, Julia points out that this is impossible because Aunt Gina knows that Jennifer's racquet had been refurbished and restrung recently, so she would not assume the problem is in the strings. Sure enough, Aunt Gina writes to say that she has not sent a new racquet.
During a weekend when many of the girls are at home with their parents, Shaista is apparently kidnapped by a chauffeur posing as the one sent by her uncle to take her home. That night there is a repetition of murder when Miss Chadwick is disturbed by torch light in the Sports Pavilion and Miss Vansittart is found dead there, having been apparently coshed. Many of the girls go home, but the resourceful Julia, who has been pondering the exchange of the racquets, takes her (really Jennifer's) racquet back to her room and discovers the gems in the hollowed-out handle. She hears someone at the door who quietly turns the knob and attempts to enter. But Julia has pushed furniture against the door to prevent a murderer from entering. The next day Julia flees the school to tell her story to Hercule Poirot, whom she has heard of through a friend of her mother. The police start to focus on the newcomer, Miss Blanche, but in fact she is not the murderer. Instead, she knows who the murderer is, and makes an attempt at blackmail that backfires when she is also killed. With the school struggling to survive the scandal of two murders, the denouement has arrived.
Poirot reviews what the reader already knows, and then explains that Princess Shaista was an impostor: the real Shaista had been kidnapped earlier in Switzerland, and the apparent abduction was actually the imposter's escape from the school. She was the representative of one group of interests who, crucially, did not know where the gems had been concealed. The murderer, however, did know where the jewels were concealed and must have been in Ramat to see Bob Rawlinson hide them. Most of the teachers could not have been there … the exception was Eileen Rich, who was apparently sick at the time but was in fact in Ramat. Jennifer had even recognised her, although she remembered the woman she had seen as a fatter woman. (It later transpires that Miss Rich had been in Ramat for the delivery of an illegitimate child that was stillborn.)
Just as it seems that Miss Rich is the murderer, Mrs. Upjohn enters the room having been recalled from her holiday in Anatolia and identifies by face the woman she had seen through Mrs Bulstrode's window: Ann Shapland, who is well known in intelligence circles as a ruthless espionage agent and a mercenary. It was Shapland who had had the room next to Bob Rawlinson at the start of the book. Ann Shapland draws a pistol and Miss Bulstrode steps in front of Mrs. Sutcliffe; Miss Chadwick does the same to protect Miss Bulstrode, and is fatally wounded.
It is revealed that Ann Shapland murdered Miss Springer, who caught her while she was searching the Sports Pavilion for the jewels. She also murdered Miss Blanche, who knew her secret and tried to blackmail her. But she did not kill Miss Vansittart, and had a perfect alibi for that night. Miss Vansittart was actually killed by Miss Chadwick, in an unpremeditated fit of passion. Miss Chadwick had found Miss Vansittart in the Sports Pavilion the second night, kneeling in front of Shaista's locker, apparently snooping. Miss Chadwick disliked Miss Vansittart and did not consider her a suitable successor for Meadowbank. Miss Chadwick was carrying a sandbag for protection, and here was Miss Vansittart in a perfect position to be coshed from behind. Barely conscious of her actions, she kills her. But she feels immediate remorse, and later throws herself in front of a bullet to save Miss Bulstrode. As Miss Chadwick lies dying, she confesses that she imagined the removal of the widely presumed successor would make Miss Bulstrode change her mind about retiring.
So the first and third murders are linked by the same murderer, while the second and third murders are linked by the same method (a sandbag). Shapland used the sandbag to make it seem that the second and third murders were linked, since she had an alibi for the second murder.
At the end of the book, Miss Bulstrode reconfirms her decision to make Miss Rich her eventual successor. Poirot turns over the gems to the enigmatic "Mr. Robinson" who, in turn, delivers them to the English woman who has been secretly married to Prince Ali Yusuf. One emerald is returned as a reward to Julia Upjohn.
Characters
Ramat
Meadowbank School
Investigators
Others
Locations
Tropes and themes
Literary significance and reception
Maurice Richardson of The Observer of November 8, 1959 said, "Some nice school scenes with bogus sheikhs sweeping up in lilac Cadillacs to deposit highly scented and busted houris for education, and backwoods peers shoving hockey-stick-toting daughters out of battered Austins. It's far from vintage Christie, but you'll want to know who."
Robert Barnard: "Girls' school background surprisingly well done, with humour and some liberality of outlook. Some elements are reminiscent of Tey's Miss Pym Disposes. Marred by the international dimension and the spy element, which do not jell with the traditional detective side. Fairly typical example of her looser, more relaxed style."
References or Allusions
References to other works
In Chapter 17, III, of the novel, Julia tells Poirot that she has been told of him by Maureen Summerhayes, at whose rather dilapidated guest house he had been forced to stay during the case related in Mrs. McGinty's Dead.
The character of Miss Bulstrode is mentioned in a later Poirot novel with a strong school-girl plot, Hallowe'en Party.
References to actual history, geography and current science
In Chapter 13, II, of the novel, mention is made of popular British comedy actress Joyce Grenfell. In 1957, Grenfell had appeared in Blue Murder at St Trinian's, a comedy set in a girls' school with a plot that includes a jewel thief and a foreign prince.
The location of the fictional Sheikdom of Ramat is not revealed in the novel, but by some hints (proximity to Aden and mountains) it can be assumed that Ramat was one of numerous principalities of South Yemen which still existed at the time when the book was finished.
Sheik Ali Yusuf of Ramat was a graduate of an unnamed English public school. Agatha Christie spent considerable time in Iraq, where the last King, Feisal II, was a graduate of Harrow.
Film, TV or theatrical adaptations
A television adaptation of the novel was produced as Episode 2 of Series 11 of Agatha Christie's Poirot first broadcast on September 28, 2008, in the UK and on June 21, 2009 in the US. The show featured David Suchet as Hercule Poirot and was directed by James Kent with screenplay by Mark Gatiss. Several changes were made, mainly through the elimination of minor characters and plot elements but the adaptation is largely faithful to the original novel.
Publication history
1959, Collins Crime Club (London), November 2, 1959, Hardcover, 256 pp
1960, Dodd Mead and Company (New York), March 1960, Hardcover, 224 pp
1961, Pocket Books (New York), Paperback, 216 pp
1962, Fontana Books (Imprint of HarperCollins), Paperback, 187 pp
1964, Ulverscroft Large-print Edition, Hardcover, 255 pp
In the UK the novel was first serialised in the weekly magazine John Bull in six abridged instalments from September 26 (Volume 106, Number 2771) to October 31, 1959 (Volume 106, Number 2776) with illustrations by "Fancett".[1]
In the US a condensed version of the novel appeared in the November 1959 (Volume LXXVI, Number 11) issue of the Ladies' Home Journal with an illustration by Joe DeMers.
International titles
Czech: Kočka mezi holuby (Cat Among the Pigeons)
Dutch: Een kat tussen de duiven (A Cat Among the Pigeons)
Finnish: Kissa kyyhkyslakassa (A Cat in the Dovecote)
French: Le Chat et les Pigeons (The Cat and the Pigeons)
German: Die Katze im Taubenschlag (The Cat in the Dovecote)
Hungarian: Macska a galambok között (Cat Among the Pigeons)
Indonesian: Kucing di Tengah Burung Dara (Cat Among the Pigeons)
Italian: Macabro quiz (Gruesome quiz)
Norwegian: Katt i dueslaget (Cat in the dovecote)
Polish: Kot wśród gołębi (A Cat Among the Pigeons)
Romanian: Pisica printre porumbei (The Cat Among the Pigeons)
Spanish: Un Gato en el Palomar (A Cat in the Dovecote)
Serbian: Мачка међу голубовима/Mačka među golubovima (Cat Among the Pigeons)
Swedish: Katt bland duvor (Cat Among Pigeons)
References