The Mousetrap is the longest running play in the world. The cast has changed numerous times.
Since the retirement of Mysie Monte (in 1967) and David Raven (in 1968), who each made history by remaining in the cast for more than 11 years, in their roles as Mrs Boyle and Major Metcalf, the cast has been changed annually. The change usually occurs around late November around the anniversary of the play's opening, and was the initiative of Sir Peter Saunders, the original producer. There is a tradition of the retiring leading lady and the new leading lady cutting a "Mousetrap cake" together.
The recorded voice of actor Deryck Guyler has been used since the first performance in 1952, as the voice reading the radio news bulletin.
Original 1952 cast
The original West End cast included:
1959-1960 production
1960-1961 production
Peter Boyes
Kerry Jordan
Michael Martin Harvey
Lorraine Peters
Madoline Thomas
Gordon Whiting
1962-1963 production
1964-1965 (13th year) production
1967 (15th year) production
Valerie Hermanni
Ernst Ulman
Brian Spink
1968-1969 production
Anne Godley
Neville Barber
Christopher Dunham
Dorothy Batley
Hugh Moxey
Gabor Vernon
Ian Cullen
1970 (18th year) production


1976 production
Brian McDermott as Detective Sergeant Trotter
Mary Law
Brian Spink
Mark Christon
Mary Hignett
Geoffrey Colvile
Patricia Samuels
Alan Gerrard
1978 (26th year) production
1982 production
1986 production
1986-1987 production
Doreen Andrew
Brian Darnley
Terrick Fitzhugh
Marcia King
Diana Marchment
Bill McCabe
Jamie Ripman
1990-1991 (39th year) production


1992-1993 (41st year) production
1993-1994 production
1998 production
25,000th performance and the 60th year of the production celebration cast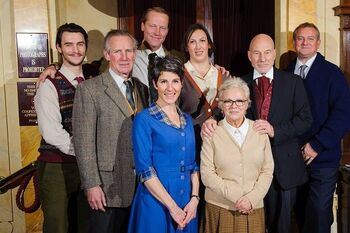 On 18th November 2012, both the 25,000th performance and the 60th year of the production were marked by a special, charity performance that featured Hugh Bonneville, Patrick Stewart, Julie Walters and Miranda Hart. It was directed by Phyllida Lloyd. The money raised by the performance went towards Mousetrap Theatre Projects.
60th anniversary U.K tour cast
2021 production
When West End theatres opened again after the Covid-19 epidemic, two different cast performed the play. One of the casts was called "classic" performed until 11 July 2021 on 17-19 May, 28 May-3 June, 11-17 June, 25 June-1 July, and 9-11 July. The other cast performed on 20-27 May, 4-10 June, 18-24 June, and 2-8 July.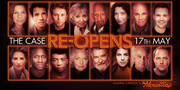 Cast 1
Cast 2
Understudies
2022 production
Understudies