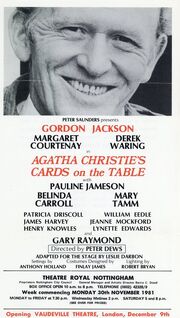 Cards on the Table is a 1981 stage adaptation of the Agatha Christie novel with the same name. Leslie Darbon followed Christie's trend of adapting Poirot novels as plays, but without Poirot as a detective.
1981 production
It opened at the Theatre Royal, Brighton, on October 26th, 1981 and toured until December 5th. On December 9th the play transferred to London's Vaudeville Theatre, where it was performed until September 4th, 1982. The play was directed by Peter Dews.[1]
1981 cast in order of their appearance
1983 U.K. tour
In 1983 the play toured the U.K.. It was directed by Roy Purkis.[2]
1983 cast
Georgina Moon as Anne Meredith
Peggy Ashby as Doris
Robert Tunstall as Dr Roberts
Nigel Williams as Major Despard
Catherine Crewe as Miss Burgess
Jacqueline Lacey as Mrs Lorrimer
Margaret Ashcroft as Mrs Oliver
Anne Sedgwick as Rhoda Dawes
Tony Parkin as Sergeant O'Connor
Roy Purkis as Shaitana
Frank Barbara as Stephens
Garfield Morgan as Superintendent Battle
George Sewell as Superintendent Battle (from May 1983)
References