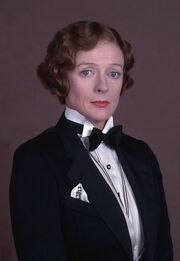 In the novel Death on the Nile, Miss Bowers is the nurse of Marie Van Schuyler. She travels with her employer onboard a Nile steamer.
Miss Bowers had been employed by Miss Van Schuyler's family to look after her, since it later turned out that the lady was a kleptomaniac who had stolen Linnet Ridgeway's pearls among other things. At the time of the events of the novel, she had been working for Miss Van Schuyler for over two years.
Miss Bowers is described as a "tall capable-looking woman". She is thin, and wears pince-nez.
After Jacqueline de Bellefort shoots Simon Doyle, she weeps hysterically, and says that she would be better off dead. Miss Bowers is asked to come and take care of her. Miss Bowers administers a morphine injection to Jacqueline, and stays with her all night.
After the death of Linnet Doyle, and the discovery that her pearls are missing, Colonel Race announces to the passengers on the Karnak that they and their cabins will be searched. Miss Bowers comes to see Colonel Race and Poirot, and returns the pearls.
Miss Bowers explains that Miss Van Schuyler took the pearls, and hid them rolled up in a pair of stockings. She says that Miss Van Schuyler cannot help herself, and takes things, especially jewellery. She says that this is why she is always with Miss Van Schuyler, and that if Miss Van Schuyler goes out at night, she goes after her and persuades her to go back to bed.
Miss Bowers also explained that she had discovered the pearls that morning, and knew whose they were. She had gone to Linnet's cabin, hoping to put them back before their loss was discovered. However, she found a steward at the door, was told about the murder, and was not allowed to go in.
Miss Bowers later assists Dr Bessner in dressing the wound on Simon Doyle's leg.
Portrayals