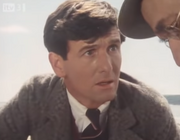 In the novel Why Didn't They Ask Evans?, Robert "Bobby" Jones is the fourth son of the Vicar of Marchbolt, and a close friend of Frankie Derwent. Bobby Jones was described as an "amiable-looking young man of about eight and twenty". He was also described as a person that wasn't actually handsome, but "his face was an eminently likeable one, and his eyes had the honest brown friendliness af a dog's".
Bobby is a keen golfer, even though he declares he always gets worse at it. He is playing golf with a Dr Thomas when he finds the body of Alan Carstairs.
Someone attempts to kill him by adding poison to his beer without success.
Leo and Amelie Cayman tell Bobby Jones and Frankie Derwent that they were relatives of the deceased "Alex Pritchard".
In Agatha Christie's Marple, Bobby Jones is renamed Bobby Attfield and portrayed by Sean Biggerstaff. Here his father isn't mentioned but he is the daughter of Marjorie Attfield, a friend of Miss Marple. His murder attempt changed from a poisoned beer to a sabotage in his bike. Since the character of Dr Thomas is omitted, he finds Alan Carstairs' body while he is walking.
In the 1980 film adaptation of the novel, Bobby Jones was portrayed by James Warwick and Frankie Derwent by Francesca Annis. The two actors later acted togheter as Tommy and Tuppence Beresford. His portrayal here is far more faithful than the one in Agatha Christie's Marple.
Community content is available under
CC-BY-SA
unless otherwise noted.