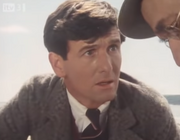 In the novel Why Didn't They Ask Evans?, Robert "Bobby" Jones is the fourth son of the Vicar of Marchbolt, and a close friend of Frankie Derwent. Bobby Jones was described as an "amiable-looking young man of about eight and twenty". He was also described as a person that wasn't actually handsome, but "his face was an eminently likeable one, and his eyes had the honest brown friendliness af a dog's".
Bobby is a keen golfer, even though he declares he always gets worse at it. He is playing golf with a Dr Thomas when he finds the body of Alan Carstairs.
Someone attempts to kill him by adding poison to his beer without success.
Leo and Amelia Cayman tell Bobby Jones and Frankie Derwent that they were relatives of the deceased "Alex Pritchard".
Portrayals
In the 1980 film adaptation of the novel, Bobby Jones was portrayed by James Warwick and Frankie Derwent by Francesca Annis. The two actors later acted togheter as Tommy and Tuppence Beresford. His portrayal here is far more faithful than the one in Agatha Christie's Marple.
In ITV's 2009 adaptation of Why Didn't They Ask Evans?, Bobby Jones is renamed Bobby Attfield and portrayed by Sean Biggerstaff. Here his father isn't mentioned but he is the son of Marjorie Attfield, a friend of Miss Marple. He still plays the organ in church. Here, since the character of Dr Thomas is omitted, he finds Alan Carstairs' body while he's taking a cliffside walk. He is tricked into missing the actual inquest by means of a note summoning him somewhere else for an inquest. When he arrives there is no inquest being held there. An attempt is also made to kill Bobby but here instead of a poisoned beer, a car attempts to run him over while he is riding a bicycle. Bobby also participates in the investigation with Frankie Derwent and Miss Marple but what he does is different.
Les Petits Meurtres d'Agatha Christie
In Pourquoi pas Martin?, the France Televisions adaptation of the novel for the TV series Les Petits Meurtres d'Agatha Christie, Bobby's role is distributed between the lead characters commissaire Laurence and Alice Avril. Alice, for example, finds the body and also gets poisoned. Thereafter she takes on the role of Frankie Derwent. Commissaire Laurence takes on the role of Bobby Jones when it comes with interactions with Alma Sarrazin, the Moira Nicholson parallel.