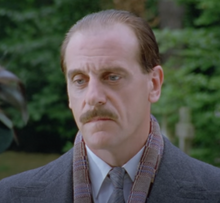 In the short story Yellow Iris, Barton Russell is an extremely wealthy American financier.
Some four years before the events in the story, Barton had hosted a dinner in New York for some friends. his wife Iris had died at the table. Although the common belief was that Iris had committed suicide, Barton claimed that she had been murdered and he knew who. Accordingly, four years later, he organised another dinner at the Jardins des Cygnes in London with the same group of diners. He told them he intended to unmask the murderer at the event.
It turned out the second dinner was part of his plan to murder Iris' sister Pauline Weatherby. Fortunately, Pauline had called Poirot and he intervened to prevent the crime. Barton's motive for trying to kill Pauline had to do with the fact that he was Pauline's guardian and trustee of her money. But he had squandered the money away and Pauline would soon attain the age of twenty one and gain access to her money in her own right.
In foiling the attempt on Pauline, Poirot also suggested that Barton might have killed Iris four years earlier. However this was not settled conclusively one way or the other in the story nor was a motive for this stated.
Portrayals
Barton Russell is played by David Troughton in the film adaptation of Yellow Iris in Series 5 of ITV's Agatha Christie's Poirot. Here he definitely poisoned his wife Iris. Barton and his partner Stephen Carter had bribed General Pereira to obtain an oil concession in Argentina. Iris discovered this and, being highly principled, could not accept this and threatened to expose them. Barton killed her to prevent her from speaking out.