Colonel Archibald Christie, CMG, DSO (30 September 1889 – 20 December 1962) was an officer in the Royal Flying Corps when he met Agatha Miller. They met at a dance for the young men of the army stationed in Exeter. Agatha described Archie as "a tall, fair young man, with crisp curly hair, a rather interesting nose, turned up not down, and a great deal of careless confidence about him." They were married Christmas Eve of 1914; however, soon after that he was in France while Agatha stayed at their home in Torquay doing volunteer work with the Volunteer Aid Detachment. After the war they moved to London and rented lodgings at 5 Northwick Terrace, St John's Wood. Archie worked at a London business firm and Agatha's writing began to really take off.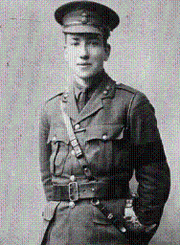 They had one daughter, Rosalind, who was born in 1919. Agatha said that her husband was "mad about Rosalind." It seemed that Archie and Rosalind understood each other better than she did with Rosalind. Agatha described herself at this period of time as "happily married." In 1924, Archie was asked by a Major Belcher (director of the British Empire Mission) to travel around the world as Belcher's business manager. Agatha was invited to come and they travelled for 10 months to areas such as Canada, Hawaii, New Zealand, Australia, and South Africa. Agatha recounted this tour as "one of the most exciting things that ever happened to me." The couple moved to Sunningdale in Berkshire where they first rented an apartment at Scotswood and then, imm 1925, bought their first home (named by them as "Styles House", named after the home featured in her first novel). Archie had been elected as a member of the Sunningdale Golf Club and soon golfing was a must on the weekends for Archie. Agatha once said about that obsession: "he was taking the game so seriously now that it might have been a religion."
Their relationship was beginning to be strained--some part had to be blamed on the game of golf. Agatha began to be troubled by Archie's love for golf, so much so that Agatha felt he was more interested in it than he was in his own family. She had to get away for a little, so she went to Corsica without him. When she returned, she received news that her mother Clara was gravely ill with bronchitis. She passed away shortly after but Archie didn't want anything to do with it. Agatha described him as someone who hated "illness, death, and trouble." His solution for Clara's passing was for everyone to go to Spain. Agatha refused to leave and Archie stayed in London.
More than a month later, he announced that he was in love with another woman, and demanded a quick divorce. The woman was Nancy Neele, the former secretary of Major Belcher. After a small separation, he returned to Agatha and Rosalind for reconciliation. This was an utter failure and Agatha described it as "a mistake". Archie announced in December of 1926 that he decided to finally leave Agatha and marry Miss Neele. Archie packed his bags and left for a friend's house, where Miss Neele was waiting for an engagement party. That same day, December 4 (many sources say the 3rd or even the 8th), was when Agatha totally broke down and disappeared. After the ordeal of Agatha's disappearance, Archie left Styles for good. Christie said this about the entire episode and about Archie: "So, after illness, came sorrow, despair, and heartbreak. There is no need to dwell on it. I stood out for a year, hoping he would change. But he did not. So ended my first married life." Agatha and Archie were divorced in April of 1928. Archie did marry Nancy Neele at St. George's Church in Hanover Square (London), and remained married until she died in 1959. Archie Christie died in 1962.