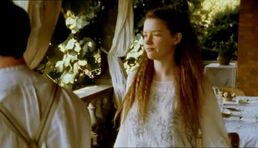 In the novel Five Little Pigs, Angela Warren (cried 'wee wee wee' all the way home) is an archaeologist, and the younger half sister of Caroline Crale. She was good friends with Caroline's husband, despite she often pranked him.
The left side of her face is disfigured, after her sister had thrown a paperweight at her as a child. Caroline's husband Amyas considered sending her to college.
Role in the novel (warning; may contain spoilers)
When Amyas was poisoned, Caroline sent Angela to college and cleaned the poisoned bottle of beer because she thought Angela was the killer. However, the real killed was Amyas' lover Elsa. The day of Amyas' murder, Angela had broken into Meredith Blake's laboratory to make yet another prank for Amyas.
Portrayals
In the Agatha Christie's Poirot Five Little Pigs episode, she was portrayed by actress Sophie Winkleman. Her young counterpart was played by Talulah Riley.
Community content is available under
CC-BY-SA
unless otherwise noted.