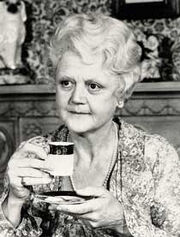 Angela Brigid Lansbury, CBE (born 16 October 1925) is a British actress and singer in theatre, television and films. Her career has spanned seven decades.
Born in East London to actress Moyna MacGill and politician Edgar Lansbury, in 1940 she moved to New York City, where she studied acting. Moving to Hollywood, Los Angeles in 1942, she secured her first cinematic roles, Gaslight (1944) and The Picture of Dorian Gray (1945), earning two Oscar nominations and a Golden Globe Award. She expanded her repertoire to Broadway musicals and television in the 1950s and was particularly successful in Broadway productions of Gypsy, Mame and Sweeney Todd: The Demon Barber of Fleet Street. Among her other films are The Manchurian Candidate (1962), Bedknobs and Broomsticks (1971), Beauty and the Beast (1991), and Anastasia (1997). Lansbury is perhaps best known to modern audiences for her twelve-year run starring as writer and sleuth Jessica Fletcher on the American television series Murder, She Wrote (1984–1996). Her recent roles include Lady Adelaide Stitch in the film Nanny McPhee (2005), Leona Mullen in the 2007 Broadway play Deuce, Madame Arcati in the 2009 Broadway revival of the play Blithe Spirit and Madame Armfeldt in the 2010 Broadway revival of the musical A Little Night Music.
Lansbury has won five Tony Awards, six Golden Globes and has been nominated for numerous other industry awards, including the Academy Award for Best Supporting Actress on three occasions, and various Primetime Emmy Awards on eighteen occasions.
After many years performing mostly on the stage, Lansbury returned to film in Death on the Nile (1978) and then portrayed Miss Marple in The Mirror Crack'd (1980).
Lansbury continued to work in the mystery genre and achieved fame as mystery novelist Jessica Fletcher on the U.S. television series Murder, She Wrote (1984–96). It became one of the longest-running detective drama series in television history. She assumed ownership of the series and acted as executive producer for the last four seasons. Her brother Bruce became the supervising producer, her son Anthony and step-son David were executive producers, and her husband assisted in running the production company, Corymore Productions.
Lansbury's half-sister Isolde was married to Peter Ustinov for some years, but they divorced in 1946. Lansbury and Ustinov appeared together once in Death on the Nile (1978).