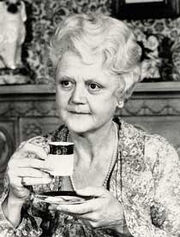 Angela Brigid Lansbury, CBE (born 16 October 1925) is a British actress and singer in theatre, television and films. Her career has spanned seven decades and earned an unsurpassed number of performance Tony Awards (tied with Julie Harris and Audra McDonald), with five wins.
Born in East London to actress Moyna MacGill and politician Edgar Lansbury, in 1940 she moved to New York City, where she studied acting. Moving to Hollywood, Los Angeles in 1942, she secured her first cinematic roles, Gaslight (1944) and The Picture of Dorian Gray (1945), earning two Oscar nominations and a Golden Globe Award. She expanded her repertoire to Broadway musicals and television in the 1950s and was particularly successful in Broadway productions of Gypsy, Mame and Sweeney Todd: The Demon Barber of Fleet Street. Among her other films are The Manchurian Candidate (1962), Bedknobs and Broomsticks (1971), Beauty and the Beast (1991), and Anastasia (1997). Lansbury is perhaps best known to modern audiences for her twelve-year run starring as writer and sleuth Jessica Fletcher on the American television series Murder, She Wrote (1984–1996). Her recent roles include Lady Adelaide Stitch in the film Nanny McPhee (2005), Leona Mullen in the 2007 Broadway play Deuce, Madame Arcati in the 2009 Broadway revival of the play Blithe Spirit and Madame Armfeldt in the 2010 Broadway revival of the musical A Little Night Music.
Lansbury has won five Tony Awards, six Golden Globes and has been nominated for numerous other industry awards, including the Academy Award for Best Supporting Actress on three occasions, and various Primetime Emmy Awards on eighteen occasions.
Early life
Edit
Childhood: 1925–1942
Edit
Angela Brigid Lansbury was born to an upper middle class family in Poplar, East London, on 16 October 1925. Her mother was the Irish actress Moyna MacGill, who regularly appeared on stage in the West End and who also starred in several films. Her father was the wealthy English timber merchant and politician Edgar Lansbury, a member of the Communist Party of Great Britain and former mayor of the Metropolitan Borough of Poplar. Her paternal grandfather was the Labour Party leader and prominent pacifist activist George Lansbury, a man she felt "awed" by, considering him "a giant in my youth". Angela had an older step-sister, Isolde, who was the offspring of Moyna's previous marriage to Reginald Denham. In January 1930, when Angela was four, her mother gave birth to twin boys, Bruce and Edgar, leading the Lansburys to move from their Poplar flat to a house at 7 Weymouth Avenue in Mill Hill, North London; at weekends they would retreat to a farm outside Oxford. Her cousin was the academic and novelist Coral Lansbury, whose son Malcolm Turnbull became a noted Australian politician.
When Angela was nine, her father died from stomach cancer; she retreated into playing characters as a coping mechanism. Facing financial difficulty, her mother became engaged to Leckie Forbes, a Scottish military colonel, and moved into his house in Hampstead, with Angela receiving an education at South Hampstead High School from 1934 until 1939. She nevertheless considered herself largely self-educated, learning from books, theater and cinema. She became a self-professed "complete movie maniac", visiting the cinema regularly and imagining herself as certain characters. In 1940 she began studying acting at the Webber Douglas School of Singing and Dramatic Art in Kensington, West London, first appearing onstage as a lady-in-waiting in the school's production of Maxwell Anderson's Mary of Scotland.
That year, Angela's grandfather died, and with the onset of The Blitz, MacGill decided to take Angela, Bruce and Edgar to the United States; Isolde remained in Britain with her new husband, actor Peter Ustinov. MacGill secured a job supervising sixty British children who were being evacuated to North America aboard the Duchess of Athol, arriving in Montreal, Canada in mid-August. From there, she proceeded by train to New York City, where she was financially sponsored by the Wall Street businessman Charles T. Smith, moving in with a family at East 94th Street. Angela gained a scholarship from the American Theatre Wing allowing her to study at the Feagin School of Drama and Radio, from which she graduated in March 1942, by which time the family had moved to a flat on Morton Street, Greenwich Village.
Gaslight and The Picture of Dorian Gray: 1942–1945Edit
McGill secured work in a Canadian touring production of Celebrity Parade; in Montreal, Angela gained her first theatrical job as a nightclub act at the Samorvar Club. Having gained the job by claiming to be 19 when she was 16, her act was co-produced with Arthur Bourbon and consisted of her singing songs by Noël Coward. She returned to New York City in August 1942, but her mother had moved to Hollywood, Los Angeles in order to resurrect her cinematic career; Lansbury and her brothers followed. Moving into a bungalow in Laurel Canyon, both Angela and her mother obtained Christmas jobs at the Bullocks Wilshire department store in Los Angeles; Moyna was fired for incompetence, leaving the family to subside on Angela's pay check of $28 a week.
At a party hosted by her mother, Angela met John van Druten, who had recently co-authored a script for a film known as Gaslight (1944), a mystery-thriller based on Patrick Hamilton's 1938 play, Gas Light. Set in Victorian London, the film was being directed by George Cukor and starred Ingrid Bergman in the lead role of Paula Alquist, a woman being psychologically tormented by her husband. Druten suggested that Lansbury would be perfect for the role of Nancy Oliver, a conniving cockney maid; she was accepted for the part, although because she was 17, a social worker had to accompany her on the set. Obtaining an agent, Earl Kramer, she was signed to a seven-year contract with MGM, earning $500 a week. Upon release, Gaslight received mixed critical reviews, although Lansbury's role was widely praised; the film earned six Academy Award nominations, including one for Best Supporting Actress for Lansbury.
Her next cinematic appearance was as the boy-crazy Edwina Brown, a minor character in National Velvet (1944), where she appeared alongside Elizabeth Taylor, who became her lifelong friend. Lansbury next starred in The Picture of Dorian Gray (1945), a cinematic adaptation of Oscar Wilde's 1890 novel of the same name, which was again set in Victorian London. Directed by Albert Lewin, Lansbury was cast as Sybil Vane, a working-class music hall singer who falls in love with the protagonist, Dorian Gray (Hurd Hatfield). Although the film was not a critical success, Lansbury's performance once more drew praise, earning her a Golden Globe Award, and she was again nominated for a Best Supporting Acress Nomination at the Academy Awards, losing to Anne Revere, her co-star in National Velvet.
Later MGM films: 1945–1951
Edit
On 27 September 1945, Lansbury married Richard Cromwell, an artist and decorator whose acting career had come to a standstill. Their relationship was strained, for Cromwell was a homosexual, and it was later suggested that he had married her in order to resurrect his acting career; she filed for divorce on 11 September 1946 under the grounds of extreme cruelty, but they remained friends. She remarried in 1949, this time to Peter Pullen Shaw.
Following on from the success of Gaslight and The Picture of Dorian Gray, MGM would cast Lansbury in 11 further films, until her contract with them ended in 1951. Keeping her among their B-list stars, they used her far less than other actresses of the same age, with biographers Edelman and Kupferberg believing that the majority of these films were "mediocre", doing little to further her career. This view was echoed by Cukow, who believed Lansbury had been "consistently miscast" by MGM. MGM themselves suffered from the post-war slump in cinema sales, slashing film budgets and the number of staff that they hired as a result; repeatedly being made to portray older characters, who were often villainesses, Lansbury was increasingly dissatisfied with working for them, commenting that "I kept wanting to play the Jean Arthur roles, and Mr Mayer kept casting me as a series of venal bitches."
1946 saw Lansbury play her first American character as Em, a honky-tonk saloon singer in the Wild west musical The Harvey Girls.
On Broadway, Lansbury first appeared in the plays Hotel Paradiso (1957) and A Taste of Honey (1960). Her first musical was the short-lived Anyone Can Whistle (1964) by Stephen Sondheim.
In 1966, she played the title role in the musical Mame, Jerry Herman's musical adaptation of the novel Auntie Mame. Mame opened at the Winter Garden Theatre in May 1966, with Stanley Kauffmann writing in the New York Times, "Miss Lansbury is a singing-dancing actress, not a singer or dancer who also acts...In this marathon role she has wit, poise, warmth and a very taking coolth." Lansbury received her first Tony Award for Best Leading Actress in a Musical.
Lansbury won her second Tony Award for her performance in the musical Dear World (1969). In 1971, Lansbury was cast in the title role in the musical Prettybelle. After a difficult rehearsal period, the show opened to brutal reviews in tryouts in Boston, where it closed within a week. In 1982, a recording of the show was released by Varèse Sarabande.
In 1973, the first revival of Gypsy opened in London's West End, with Lansbury starring as Rose. In September 1974, the same production opened at Broadway's Winter Garden Theatre. Lansbury received her third Tony for her performance in Gypsy. In December 1975, she portrayed Gertrude in the Royal National Theatre, London, production of Hamlet, directed by Peter Hall.
During the summer of 1976, she repeated the title role in Mame at the Muny, St. Louis, Missouri. She was a three-week replacement for the role of Anna in the Broadway revival of The King and I in April 1978.
Lansbury starred as Mrs. Lovett in the original 1979 production of Stephen Sondheim's musical thriller Sweeney Todd. The New York Times reviewer noted that "Her songs ... are awesomely difficult and she does them awesomely well. Her voice is a visible voice; you can follow it amid any confusion". She later played the role in the first U.S. tour, from 1980 to 1981, which was taped for television while playing in Los Angeles and broadcast on September 12, 1982. She won another Tony Award for Actress in a Musical for this role.
She had been cast in the lead role in the 2001 Kander and Ebb musical The Visit, but she withdrew from the show before it opened because of her husband's declining health. Lansbury returned to Broadway after an absence of twenty-three years in Deuce, a play by Terrence McNally. The play opened at the Music Box Theatre in May 2007 in a limited run of eighteen weeks. Lansbury received a nomination for Best Leading Actress in a Play for her role.
She played the role of Madame Arcati in the 2009 Broadway revival of Blithe Spirit, at the Shubert Theatre in March 2009. The New York Times praised her performance, for which she won several awards, including the Tony Award for Best Featured Actress in a Play (her fifth Tony, tying her with Julie Harris, although all of Harris's wins were as Best Actress).
Lansbury starred as Madame Armfeldt in the first Broadway revival of A Little Night Music, which opened in December 2009 at the Walter Kerr Theatre. She left the show on 20 June 2010. For this role, she received a 2010 Tony Award nomination for Best Featured Actress in a Musical, but lost to Katie Finneran.
Lansbury starred in the Broadway revival of Gore Vidal's The Best Man, alongside James Earl Jones, John Larroquette, Candice Bergen and Eric McCormack. The show opened at the Gerald Schoenfeld Theatre on 1 April 2012, with Lansbury leaving on 22 July 2012.[1] The play has had positive reviews, with critics such as The New York Times[2] and Variety[3] giving positive reviews for Lansbury's performance as Mrs. Sue-Ellen Gamadge, chair of the party's Women's Division. For her role in this production Lansbury was nominated for the Drama Desk Award for Outstanding Featured Actress in a Play.
Lansbury and her The Best Man co-star James Earl Jones will star in a strictly-limited three-week run of Driving Miss Daisy in Australia, at the Queensland Performing Arts Centre, Brisbane, Queensland, starting on 5 February 2013.[4] Lansbury reprised her role as The Dowager Empress Maria Feodorovna of Russia in the reading of a new musical based on the 1997 Fox Animation Studios feature film Anastasia during the week of 23 July 2012.[5] "The work is currently in development for a future European premiere."[6]
Film and television
Edit
Lansbury has enjoyed a long and varied career, sometimes in roles older than her actual age.[7] She appeared in films such as Gaslight (1944), National Velvet (1944), The Harvey Girls (1946), Samson and Delilah (1949), Blue Hawaii (1961, co-starring Elvis Presley) and Disney's Bedknobs and Broomsticks (1971). She had a prominent supporting role in the 1962 film The Manchurian Candidate, in which she portrayed the malicious Mrs. Iselin. She received acclaim for her performance, several industry awards and an Academy Award nomination as Best Supporting Actress.[8][9] Lansbury also starred in several dramas before and during her years of Broadway success, including The World of Henry Orient (1964) and Something for Everyone (1970).[8]
Lansbury received her much coverage in the media because of her popularity from, and association with, Mame on Broadway in the 1960s. She used her fame to benefit humanitarian causes. For example, when appearing as a guest on the Sunday night CBS-TV show What's My Line?, she made a plea for viewers to contribute to the 1966 Muscular Dystrophy Association fund-raising drive, chaired by Jerry Lewis.[10]
After many years performing mostly on the stage, Lansbury returned to film in Death on the Nile (1978) and then portrayed Miss Marple in The Mirror Crack'd (1980). She began doing character voice work in the years that followed in animated films such as The Last Unicorn (1982) and Anastasia (1997), and as the singing teapot Mrs. Potts in the 1991 Disney hit, Beauty and the Beast, in which she performed the title song. The song later won the Academy Award for Best Original Song, Golden Globe Award for Best Original Song and Grammy Award for Best Song Written for a Motion Picture, Television or Other Visual Media[8] She reprised this role in Beauty and the Beast: The Enchanted Christmas (1997) and in the video game Kingdom Hearts II (2006). Lansbury made her first theatrical film appearance since The Company of Wolves (1984) as Aunt Adelaide in Nanny McPhee in 2005.
Lansbury starred opposite Laurence Olivier in a BBC adaptation of the Broadway play, A Talent for Murder (1983), which she described as "a rushed job" in which she participated solely to work with Olivier.[11] Afterwards, Lansbury continued to work in the mystery genre and achieved fame as mystery novelist Jessica Fletcher on the U.S. television series Murder, She Wrote (1984–96).[8] It became one of the longest-running detective drama series in television history.[12] She assumed ownership of the series and acted as executive producer for the last four seasons. Her brother Bruce became the supervising producer, her son Anthony and step-son David were executive producers, and her husband assisted in running the production company, Corymore Productions.[12]
On 5 July 1986, she co-hosted (with Kirk Douglas) the New York Philharmonic's tribute to the 100th anniversary of the Statue of Liberty, which was televised live on ABC Television.[13]
Although she was nominated three times for the Academy Award for Best Supporting Actress, she has never won; nor did she win any of the 18 Emmy Awards for which she was nominated over a 33-year period. She holds the record for the most Primetime Emmy losses by a performer,[14] Reflecting on this in 2007, she stated that she was at first "terribly disappointed, but subsequently very glad that [she] did not win", because she believes that she would have otherwise had a less successful career.[15] However, she has received Golden Globe[16] and People's Choice awards for her television and film work.[17]
Lansbury co-starred in Mr. Popper's Penguins, opposite Jim Carrey, released in June 2011.[18] She is also scheduled to appear in another film, Adaline.[19] In November 2012, she hosted the PBS Thanksgiving special "Downton Abbey Revisited", a documentary retrospective of the popular Downton Abbey television series.[20]
She has written books including co-authoring, with Mimi Avins, Angela Lansbury's Positive Moves – My Personal Plan for Fitness and Well-Being (1990).[21]
Personal life
Edit
In 1945, Lansbury married American actor Richard Cromwell when he was 35 and she was 19. The marriage dissolved after a year, but the two reportedly remained friends. In 1949, Lansbury married British-born actor and businessman Peter Shaw. She had two children, Anthony Peter Shaw (born 7 January 1952) and Deidre Angela Shaw (born 26 April 1953). Shaw was instrumental in guiding and managing Lansbury's career. They were married for 54 years until his death in January 2003.[22]
Lansbury became a naturalized US citizen in 1951.[23]
She is the mother of two, stepmother of one and a grandmother. A fire destroyed the family's Malibu home in September 1970, prompting a move to a rural area of County Cork in Ireland.[7] Her daughter and son-in-law, a chef, are restaurateurs in West Los Angeles.[24] Her son Anthony Shaw, after a brief fling with acting, became producer/director of Murder, She Wrote and currently is a television executive and director.
Lansbury's half-sister Isolde was married to Peter Ustinov for some years, but they divorced in 1946.[7] Lansbury and Ustinov appeared together once in Death on the Nile (1978). She is related by marriage to actress Ally Sheedy, ex-wife of her nephew David Lansbury.[25] Both her brothers, twins Bruce and Edgar, are successful theatre producers: Edgar was instrumental in bringing Godspell to Broadway, and Bruce Lansbury was a television producer for such shows as The Wild Wild West and Mission: Impossible and Murder, She Wrote.
Lansbury was a long-time resident of Brentwood, a neighbourhood of Los Angeles, California, where she supported various philanthropies. She had knee-replacement surgery on 14 July 2005. She has had two hip replacement surgeries.[26] In 2006, she moved to New York City, purchasing a condominium at a reported cost of $2 million. The following year, she returned to Broadway in Deuce, opposite Marian Seldes.[24] Lansbury's papers are housed at the Howard Gotlieb Archival Research Center at Boston University.[27]
Cite error: <ref> tags exist, but no <references/> tag was found
Community content is available under
CC-BY-SA
unless otherwise noted.