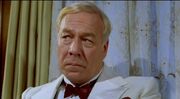 In the novel Death on the Nile, Andrew Pennington is a trustee (together with Sterndale Rockford) of Linnet Doyle.
Like his partner Sterndale Rockford, Pennington is "tall, spare, with greying hair", and a "clean-shaven, clever" face.
Pennington had been a friend of Linnet's father Melhuish Ridgeway, and had known Linnet since she was a child. He spoke of remembering Linnet as "the cutest little thing you can imagine", and of how proud her father was of her.
Upon Melhuish Ridgeway's death, Pennington and Rockford were appointed business guardians and trustees for Linnet, along with two other people, who had passed away before the events of the novel.
At the beginning of the novel, Pennington receives a letter from Linnet, telling him of her marriage to Simon Doyle, and of their plans to go to Egypt for their honeymoon. Pennington and Rockford discuss this letter, and plan for one of them to go to Egypt, and stage a chance meeting with Linnet. Rockford tells Pennington to go, as he has "always made a hit with Linnet".
Pennington goes to Egypt, and succesfully stages the chance encounter with Linnet and Simon in Cairo. Linnet and Simon believed that Pennington left New York on the Carmanic two days before Linnet's letter arrived telling him of their marriage, and so he knew nothing about it until he met them.
While on the cruise up the Nile on the Karnak, Pennington occupies a cabin de luxe with a bathroom, on the port side, next to that occupied by Dr Bessner.
Pennington asks Linnet to sign a few documents. Linnet reads each document before signing it, saying that her father taught her that. Mr Fanthorp compliments Linnet on her businesslike capacity, saying that never to sign a document before reading it is admirable. This annoys Pennington, and he suggests that she sign the rest of the documents some other time.
On the evenng of the murder, Pennington plays bridge with Linnet, Simon, and Colonel Race in the saloon. After Linnet leaves to go to bed, followed by Colonel Race, Pennington stays in the saloon to finish his drink, and leaves a few minutes after.
After Linnet's death, Colonel Race and Poirot ask Pennington if he knows of anyone who had a motive for killing Linnet. Pennington says that he knew very little of her surroundings and associations, because she was brought up in England. Poirot mentions a near escape Linnet had at the temple of Abu Simbel, when a boulder rolled down from the cliff, nearly crushing her. Pennington says that he was in the temple at the time, but heard about the incident afterwards. However, Poirot knows this to be untrue, because he had just come from the temple himself, when the incident occurred.
Pennington owns a Colt revolver, which he kept in a drawer in his cabin. After Salome Otterbourne is shot using this revolver, Colonel Race finds Pennington in the drawing room on the lower deck, and Pennington claims to have been there for the past twenty minutes. He says that near the beginning of the cruise, there had been a conversation about firearms in the saloon, and he had mentioned that he always carried a revolver when he travelled.
Poirot later asks Pennington if Linnet's sudden marriage caused any consternation in his office, and if he was so alarmed that he came to Egypt and staged the chance meeting with Linnet and Simon. Pennington at first maintains that he left New York on the Carmanic, and did not know Linnet was married until he met her in Cairo. However, Poirot points out that on his luggage there were no labels of the Carmanic, only those of the Normandie, which sailed two days after the Carmanic.
Pennington then claims that he had good reason to believe that Linnet was being swindled by her English lawyer, and he had come over to see for himself. However, Poirot tells him that he and Colonel Race do not believe this story.
Poirot suggests that Linnet's unexpected marriage put Pennington in a financial quandary, and that he came over to try to gain time to put things right. Poirot also suggests that Pennington was the one who dislodged the boulder at Abu Simbel, in an attempt to kill Linnet. This was to prevent her from finding out about the irregularities in her affairs when she took up the control of her property, which she would have done on her return to England.
Pennington claims that his investments were "all square enough", and that he had staged a comeback, so that with luck, everything would by alright by the middle of June. He also claims that the dislodging of the boulder was an accident, saying that he stumbled and fell against the boulder.
Portrayals
In the 1978 Ustinov film adaptation, Pennington is portrayed by George Kennedy.
In the 2004 Suchet film adaptation, Pennington is portrayed by David Soul. The portrayal is quite close to the original novel. When confronted by Poirot, he admitted to the fraud he committed on Linnet's funds. However he insisted that the incident of the falling rock was because he hit it accidentally with his golf club.