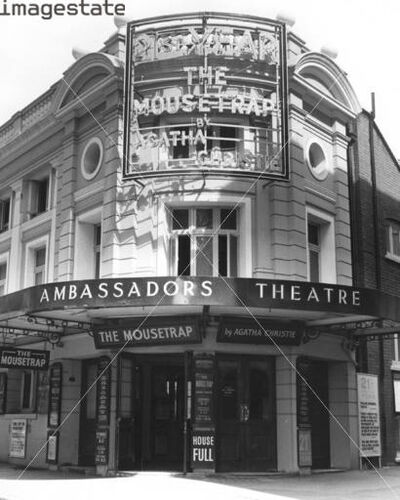 The Ambassadors Theatre (formerly the New Ambassadors Theatre), is a West End theatre located in West Street, near Cambridge Circus on the Charing Cross Road in the City of Westminster. It is one of the smallest of the West End theatres, seating a maximum of 195 people in the Dress Circle and 251 in the Stalls.
History
The theatre was, along with the adjacent St Martin's conceived by their architect, W. G. R. Sprague, as companions, born at the same time in 1913, but the First World War interrupted the construction of the latter for three years. The Ambassadors was built with the intention of being an intimate, smaller theatre and is situated opposite the renowned restaurant The Ivy, favourite haunt of the theatrical elite.
The theatre was Grade II listed by English Heritage in March 1973.
New Ambassadors era
In 1996, the venue was bought by its namesake the Ambassador Theatre Group, now the largest operator of theatres in the West End. It was first split into two small spaces, by creating a false floor at circle level, and used by the Royal Court. Then in 1999 the venue was renamed the New Ambassadors and hosted niche works and plays not normally seen outside of smaller fringe venues. However, within a few years the theatre had largely reverted to playing material seen as more commercially viable for its location in the West End.
On Wednesday, 4 April 2007, it was announced that ATG had sold the venue to Sir Stephen Waley-Cohen, who renamed the venue The Ambassadors as it once was, and began an extensive programme of refurbishments.
The Mousetrap
The theatre's most famous production is Agatha Christie's The Mousetrap, which showed from 1952 to 1974 before moving next door to the St Martin's Theatre where it is still running.