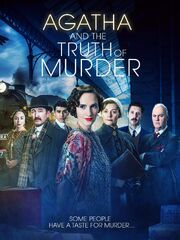 Agatha and the Truth of Murder is a 2018 British alternative history drama. Written by Tom Dalton and directed by Terry Loane. The film mixes the real events revolving around the disappearance of Agatha Christie in 1926, as well as the murder of nurse Florence Nightingale Shore in 1920.
The film's closing credits starts with an announcement:
"This film has not been endorsed, licensed or authorised by the estate of Agatha Christie or by Agatha Christie Limited."
Plot summary
In 1920 nurse Florence Nightingale Shore (the goddaughter of her more famous namesake) is bludgeoned to death on a train. The murderer was never caught. Six years late novelist Agatha Christie is visited by a friend of the victim, who urges the author to solve the crime.
To solve the crime, Agatha has to disappear from the publics view and go undercover.
Closing credits in alphabetical order
Dean Andrews as Wade
Bebe Cave as Daphne
Amelia Rose Dell as Rosalind
Richard Doubleday as Postmaster Wilson
Derek Halligan as Mr. Todd
Blake Harrison as Travis Pickford
Pippa Haywood as Mabel Rogers
Stacha Hicks as Florence Nightingale Shore
Ralph Ineson as Detective Inspector Dicks
Brian McCardie as Sir Hugh Persimmion
Michael McElhatton as Sir Arthur Conan Doyle
Tim McInnerny as Randolph
Clare McMahon as Carlo
Liam McMahon as Archie
Seamus O'Hara as PC Spencer
Luke Pierre as Zaki Hanachi
Joshua Silver as Franklin
Samantha Spiro as Pamela
Community content is available under
CC-BY-SA
unless otherwise noted.