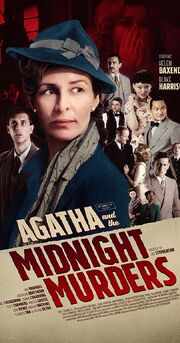 Agatha and the Midnight Murders is an upcoming 2020 television film. It is written by Tom Dalton and directed by Joe Stephenson.
The film's closing credits starts with an announcement:
"This film has not been endorsed, licensed or authorised by the estate of Agatha Christie or by Agatha Christie Limited."
Cast
Alistair Petrie as Sir Malcolm Campbell
Blake Harrison as Travis
Gina Bramhill as Grace
Vanessa Grasse as Nell
Elizabeth Tan as Jun
Daniel Caltagirone as Eli
Jodie McNee as PC O'Hanauer
Morgan Watkins as Rocco
Michael D. Xavier as Max Mallowan
Scott Chambers as Clarence
Thomas Chaanhing as Frankie
Jacqueline Boatswain as Audrey
Title
In an interview with the Radio Times, Dalton revealed that the film originally was being called Agatha and the Death of X.[1]
References and allusions
(lengthy - click on expand to read)
References to actual history, geography, and current science
At one point in the film, Agatha is asked about her knowledge about Bletchley Park and the work taking place there. In real life Agatha was suspected of knowing about the secret war effort, after one of her characters in her novel N or M? is named Major Bletchley.
References