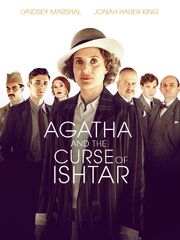 Agatha and the Curse of Ishtar is a television film, first broadcast on Channel 5 on 15 December 2019. The script was written by Tom Dalton and it was directed by Sam Yates.
The film's closing credits starts with an announcement:
"This film has not been endorsed, licensed or authorised by the estate of Agatha Christie or by Agatha Christie Limited."
Plot
In 1928 Agatha Christie is invited to join Leonard and Katharine Woolley at their archaeological dig in Iraq. Just after having arrived there she finds a young man who has been shot.
Cast
Jonah Hauer-King as Max Mallowan
Bronagh Waugh as Lucy
Jack Deam as Leonard Woolley
Rory Fleck Byrne as Marmaduke / Lord Ponsonby
Crystal Clarke as Pearl
Stanley Townsend as Sir Constance
Katherine Kingsley as Katharine Woolley
Waj Ali as Ezekiel
Walles Hamonde as Ahkam
Liran Nathan as Faisal
Mark Lambert as Godfrey
Daniel Gosling as Hugo
Waleed Elgadi as Doctor Al-Memar
Col Farrell as Hutchins
References and allusions
(lengthy - click on expand to read)
References to actual history, geography, and current science
In 1928 Agatha did travel to Iraq and met the Woolleys. She was however not invited by Katharine, but had met a Commander Howe of the Royal Navy and his wife at a dinner party. The Howes spoke about their recent trip to the Gulf of Persia. Agatha decided to go to Baghdad instead of her planned trip to the West Indies.
She didn't meet Max until she returned to Iraq in 1930.