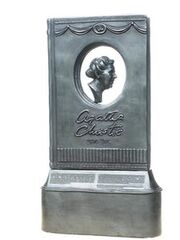 The Agatha Christie Memorial in London was commissioned by Sir Stephen Waley-Cohen (the current producer of The Mousetrap) and Christie's grandson, Mathew Prichard, and it was sculpted by Ben Twiston-Davies.
It features a bust of the author, with details reflecting her life and work. On the cover of the book there are motifs depicting Miss Marple, Hercule Poirot, Egyptian pyramids, the Orient Express, Greenway, and a mousetrap.
The sculpture also features a row of smaller book spines which reflect the fact that Agatha Christie's books were translated into 50 different languages, so the titles of the books are in many languages, as well as in Braille. This is the first statue of the novelist to be erected in London.
Covent Garden was chosen as a location because historically, eight theatres have shown her work in the area, most recently The Mousetrap at St Martin's Theatre. The play, which has been in the West End since 1952, is the world's longest-running stage production.
The statue was unveiled on 25th November 2012 by Christie's grandson, Mathew Pritchard, and the celebrity cast of the one off charity perfomance of The Mousetrap.
See also