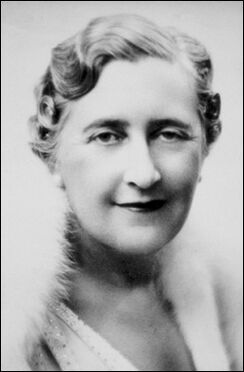 Dame Agatha Mary Clarissa, Lady Mallowan, Order of the British Empire, DBE (15 September 1890 – 12 January 1976), commonly known as Agatha Christie, was an English crime fiction writer. She also wrote romance novels under the name Mary Westmacott, but is best remembered for her 80 detective novels and her successful West End theatre plays. Her works, particularly featuring detectives Hercule Poirot or Miss Jane Marple, have given her the title the 'Queen of Crime' and made her one of the most important and innovative writers in the development of the genre.
Christie has been called — by the Guinness Book of World Records, among others — the best-selling writer of books of all time, and the best-selling writer of any kind together with William Shakespeare. Only the Bible sold more with about 6 billion copies. An estimated four billion copies of her novels have been sold. UNESCO states that she is currently the most translated author in the world with only the collective corporate works of Walt Disney Productions superseding her. As an example of her broad appeal, she is the all-time best-selling author in France, with over 40 million copies sold in French (as of 2003) versus 22 million for Emile Zola, the nearest contender.
Her stage play, The Mousetrap, holds the record for the longest initial run in the world, opening at the Ambassadors Theatre in London on 25 November 1952, and as of 2015 is still running after more than 25,000 performances. In 1955, Christie was the first recipient of the Mystery Writers of America's highest honor, the Grand Master Award, and in the same year, Witness for the Prosecution was given an Edgar Award by the MWA, for Best Play. Most of her books and short stories have been filmed, some many times over, and many have been adapted for television, radio, video games and comics.
Biography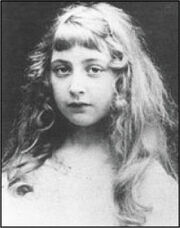 Agatha Christie was born as Agatha Mary Clarissa Miller in Torquay, Devon, to an American father and an English mother. She never claimed United States citizenship. Her father was Frederick Alvah Miller, a rich American stockbroker, and her mother was Clarissa Margaret Boehmer, the daughter of a British army captain. Christie had a sister, Margaret Frary Miller (1879 – 1950), called Madge, eleven years her senior, and a brother, Louis Montant Miller (1880 – 1929), called Monty, ten years older than Christie. Her father died when she was eleven years old. Her mother taught her at home, encouraging her to write at a very young age. At the age of 16 she went to Mrs Dryden's finishing school in Paris to study singing and piano.
Her first marriage, was in 1914 to Colonel Archibald Christie, an aviator in the Royal Flying Corps. The couple had one daughter, Rosalind Hicks, and divorced in 1928. It was during this marriage that she published her first novel in 1920, The Mysterious Affair at Styles.
During World War I she worked at a hospital and then a pharmacy, a job that influenced her work; many of the murders in her books are carried out with poison.
On 8 December 1926, while living in Sunningdale in Berkshire, she disappeared for ten days, causing great interest in the press. Her car was found in a chalk pit in Newland's Corner, Surrey. She was eventually found staying at the Swan Hydro (now the Old Swan Hotel) in Harrogate under the name of Teresa Neele (Neele being the surname of Nancy Neele, the woman with whom her husband Archie had been having an affair and had asked Agatha for a divorce to enable them to marry). She claimed to have suffered a nervous breakdown and a fugue state caused by the death of her mother and her husband's infidelity. Opinions are still divided as to whether or not this is the right answer. Public sentiment at the time was negative, with many feeling that an alleged publicity stunt had cost the taxpayers a substantial amount of money.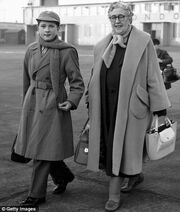 A 1979 film, Agatha, starring Vanessa Redgrave as Christie, recounted an extremely fictionalised version of the disappearance. Many books have been written on the event, however none have any rock solid evidence to back up their theories, and many are very badly flawed. The best reason for her disappearence is given in Laura Thompson's biography, Agatha Christie: An English Mystery, in which she states that Christie did disappear as part of a publicity stunt, not to increase sales in her novels however, but to create a generally negative feeling towards her unfaithful husband. Unfortunately, the event was blown completely out of proportion, and instead of it creating a strong bond between Agatha and Archie as she had hoped it would, it cemented the fact that their relationship was over and could never be salvaged.
In 1930, Christie married the archaeologist Sir Max Mallowan. Mallowan was 14 years younger than Christie, and a Roman Catholic, while she was of the Anglican faith. Their marriage was an extremely happy one, and though today there is speculation that Max was unfaithful to Agatha, there is no evidence of this whatsoever. Their marriage was a wholly happy one, during which Agatha wrote the vast bulk of her novels and plays, and bought her beloved summer home, Greenway. They also had a house in London at 58 Sheffield Terrace.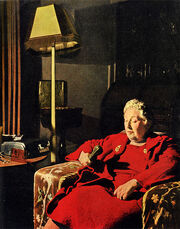 Christie's travels with Mallowan contributed background to several of her novels set in the Middle East. Other novels (such as And Then There Were None) were set in and around Torquay, Devon, where she was born. Christie's 1934 novel, Murder on the Orient Express was written in the Pera Palas hotel in Istanbul, Turkey, the southern terminus of the railroad. The hotel maintains Christie's room as a memorial to the author. The Greenway Estate in Devon, acquired by the couple as a summer residence in 1938, is now in the care of the National Trust. Christie often stayed at Abney Hall in Cheshire, which was owned by her brother-in-law, James Watts. She based at least two of her stories on the hall: The short story The Adventure of the Christmas Pudding which is in the story collection of the same name and the novel After the Funeral. "Abney became Agatha's greatest inspiration for country-house life, with all the servants and grandeur which have been woven into her plots. The descriptions of the fictional Styles Court, Chimneys, Stonygates and the other houses in her stories are mostly Abney in various forms."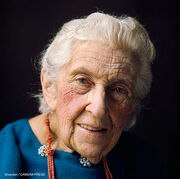 In 1971 she was made a Dame Commander of the Order of the British Empire, an event which brought great joy to Agatha.
Agatha Christie died on 12 January 1976, at age 85, from natural causes, at her home, Winterbrook House , in the north of Cholsey parish, adjoining Wallingford in Oxfordshire (formerly Berkshire). She is buried in the nearby St Mary's Churchyard in Cholsey.
Agatha Christie's estate and subsequent ownership of works
During Agatha Christie's life, she had set up a private company, Agatha Christie Limited, to hold the rights to her works, and around 1959 she had also transferred her 278-acre home, Greenway Estate, to her daughter Rosalind. In 1968, when Christie was almost 80 years old, she sold a 51% stake in Agatha Christie Limited (and therefore the works it owned) to Booker Books (better known as Booker Author's Division), a subsidiary of the British food and transport conglomerate Booker-McConnell (now Booker Group), the founder of the Booker Prize for literature, which later increased its stake to 64%. Agatha Christie Limited remains the owner of the worldwide rights for over 80 of Christie's novels and short stories, 19 plays, and nearly 40 TV films.
After Christie's death in 1976, her remaining 36% share of the company was inherited by her daughter, Rosalind Hicks, who passionately preserved her mother's works, image, and legacy until her own death 28 years later. The family's share of the company allowed them to appoint 50% of the board and the chairman, and thereby to retain a veto over new treatments, updated versions, and republications of her works.
In 1993, Hicks founded the Agatha Christie Society and became its first president. In 2004 her obituary in The Telegraph commented that Hicks had been "determined to remain true to her mother's vision and to protect the integrity of her creations" and disapproved of "merchandising" activities. Upon Hicks' death, also at age 85 like her mother, on 28 October 2004, both this and the Greenway Estate passed to Christie's grandson, Mathew Prichard. After his parents' deaths, Pritchard gifted Greenway - both the house and its contents - to the National Trust.
Christie's family and family trusts, including Prichard, continue to own the remaining 36% stake in Agatha Christie Limited, and remain associated with the company. Prichard remains as the company's chairman, and also in his own right holds the copyright to some of his grandmother's later literary works (including The Mousetrap).
In 1998, Booker sold a number of its non-food assets to focus on its core business. As part of that, its shares in Agatha Christie Limited (at the time earning £2.1m annual revenue) were sold for £10m to Chorion, a major international media company whose portfolio of well known authors' works also included the literary estates of Enid Blyton and Dennis Wheatley. However, in February 2012, Chorion found itself in financial difficulties some years after a Management buyout, and began to sell off their literary assets on the market, selling their stake in Christie's estate (specifically, their 64% stake in Agatha Christie Limited) to the current owner Acorn Media UK (part of RLJ Entertainment, Inc. and the RLJ Companies, owned by American entrepreneur Robert L. Johnson) during that same month.
As of 2014, media reports state that the BBC had acquired the exclusive television rights to Christie's works in the UK (previously associated with ITV) and plans with Acorn's co-operation to air new productions for the 125th anniversary of Christie's birth in 2015.
Hercule Poirot and Miss Marple
Agatha Christie's first novel The Mysterious Affair at Styles was published in 1920 and introduced the long-running character detective Hercule Poirot, who appeared in 30 of Christie's novels and 50 short stories.
Her other well known character, Miss Marple, was introduced in The Murder at the Vicarage in 1930, and was based on Christie's grandmother.
During World War II, Christie wrote two novels intended as the last cases of these two great detectives, Hercule Poirot and Jane Marple, respectively. They were Curtain and Sleeping Murder. Both books were sealed in a bank vault for over thirty years, and were released for publication by Christie only at the end of her life, when she realised that she could not write any more novels. These publications came on the heels of the success of the film version of Murder on the Orient Express in 1974.
Like Arthur Conan Doyle, Christie was to become increasingly tired of her detective, Poirot. In fact, by the end of the 1930s, Christie confided to her diary that she was finding Poirot "insufferable", and by the 1960s she felt that he was an "an ego-centric creep". However, unlike Conan Doyle, Christie resisted the temptation to kill her detective off while he was still popular. She saw herself as an entertainer whose job was to produce what the public liked, and what the public liked was Poirot.
In contrast, Christie was fond of Miss Marple. It is however interesting to note that the Belgian detective's titles outnumber the Marple titles by more than two to one.
Poirot is the only fictional character to have been given an obituary in The New York Times, following the publication of Curtain in 1975.
Following the great success of Curtain, Christie gave permission for the release of Sleeping Murder sometime in 1976, but died in January 1976 before the book could be released. This may explain some of the inconsistencies in the book with the rest of the Marple series — for example, Colonel Arthur Bantry, husband of Miss Marple's friend, Dolly, is still alive and well in Sleeping Murder (which, like Curtain, was written in the 1940s) despite the fact he is noted as having died in books that were written after but published before the posthumous release of Sleeping Murder in 1976 — such as, The Mirror Crack'd from Side to Side. It may be that Christie simply did not have time to revise the manuscript before she died. Miss Marple fared better than Poirot, since after solving the mystery in Sleeping Murder, she returns home to her regular life in St. Mary Mead.
On an edition of Desert Island Discs in 2007, Brian Aldiss recounted how Agatha Christie told him that she wrote her books up to the last chapter, and then decided who the most unlikely suspect was. She would then go back and make the necessary changes to "frame" that person.
Archaeology and Agatha Christie
Christie had always had an interest in archaeology.
-Christie expressing her interest in archaeology, a passage from An Autobiography (London, 1984), p. 389
On a trip to the excavation site at Ur in 1930, she met her future husband, Sir Max Mallowan, a distinguished archaeologist, but her fame as an author far surpassed his fame in archaeology. Prior to meeting Mallowan, Christie had not had any extensive brushes with archaeology, but once the two married they made sure to only go to sites where they could work together.
-Christie wishing for an earlier exposure to Archaeology, a passage from An Autobiography (1984), p. 546
While accompanying Mallowan on countless archaeological trips (spending up to 3–4 months at a time in Syria and Iraq at excavation sites at Ur, Nineveh, Tell Arpachiyah, Chagar Bazar, Tell Brak, and Nimrud), Christie not only wrote novels and short stories, but also contributed work to the archaeological sites, more specifically to the archaeological restoration and labeling of ancient exhibits which includes tasks such as cleaning and conserving delicate ivory pieces, reconstructing pottery, developing photos from early excavations which later led to taking photographs of the site and its findings, and taking field notes.
So as to not influence the funding of the archaeological excavations, Christie would always pay for her own board and lodging and her travel expenses, and supported excavations as an anonymous sponsor.
After WW2, she chronicled her time in Syria with fondness in Come, Tell Me How You Live. Anecdotes, memories, funny episodes, are strung in a rough timeline, with more emphasis on eccentric characters, lovely scenery, than factual accuracy.
Archaeological influences found in her writing
Many of the settings for Agatha Christie's books were directly inspired by the many archaeological field seasons spent in the Middle East on the sites managed by her second husband Max Mallowan. Her time spent at the many locations featured in her books is very apparent by the extreme detail in which she describes them. One such site featured in her books is the temple site of Abu Simbel in her book Death on the Nile, as well as the great detail in which she describes life at the dig site in her book Murder in Mesopotamia.
Characters
Of the characters in her books, Christie has often showcased the archaeologist and experts in Middle Eastern cultures and artifacts. Most notably are the characters of Dr. Eric Leidner in Murder in Mesopotamia, Signor Richetti in Death on the Nile, and many minor characters in They Came to Baghdad were archaeologists.
More indirectly, Christie's famous character of Hercule Poirot can be compared to an archaeologist in his detailed scrutiny of all facts both large and small. Cornelius Holtorf, an academic archaeologist, describes an archaeologist as a detective as one of the key themes of archaeology in popular culture. He describes an archaeologist as a professional detective of the past who has the ability to reveal secrets for the greater of society. Holtorf's description of the archaeologist as a detective is very similar to Christie's Poirot who is hugely observant and is very careful to look at the small details as they often impart the most information. Many of Christie's detective characters show some archaeological traits through their careful attention to clues and artifacts alike. Miss Marple, another of Christie's most famous characters, shares these characteristics of careful deduction though the attention paid to the small clues.
Spiritual and Religious
Christie's life within the archaeological world not only shaped her settings and characters for her books but also in the issues she highlights. One of the stronger influences is her love of the mystical and mysterious. Many of Christie's books and short stories both set in the Middle East and back in England have a decidedly otherworldly influence in which religious sects, sacrifices, ceremony, and seances play a part. Such stories include "The Hound of Death" and "The Idol House of Astarte". This theme was greater strengthened by Christie's time spent in the Middle East where she was consistently surrounded by the religious temples and spiritual history of the towns and cities they were excavating in Mallowan's archaeological work.
Travel as Adventure
During Christie and Mallowan's time in the Middle East, along with their time spent among the many tombs, temples, and museums, there was also a large amount of time spent traveling to and from Mallowan's sites. The travelling involved in the archaeology had a large influence on Christie's writing, which is often reflected as some type of transportation playing a part in her murderer's schemes. The large amount of travel done by Christie and Mallowan has not only made for a great writing theme, as shown in her famous novel: Murder on the Orient Express, but also tied into the idea of archaeology as an adventure that has become so important in today's popular culture as described by Cornelius Holtorf in his book Archaeology is a Brand.
Popular novels with heavy archaeological influences
Christie's Murder in Mesopotamia is the most archaeologically influenced of all her novels as it is set in the Middle East at an archaeological dig site and associated expedition house. The Main characters included an archaeologist, Dr. Eric Leidner, as well as his wife, multiple specialists, assistants and the men working the site. The novel is most noted for its careful description of the dig site and house, which showed the author had spent much of her own time in very similar situations herself. The characters in this book in particular are also based on archaeologists Christie knew from her personal experiences on excavations sites.
Appointment with Death is set in Jerusalem and its surrounding area. The death itself occurs in at an old cave site and offers some very descriptive details of sites which Christie herself would have visited in order to write the book.
Death on the Nile takes place on a tour boat on the Nile. Many archaeological sites are visited along the way and one of the main characters is an archaeologist, Signor Richetti.
They Came to Baghdad was inspired by Christie's own trips to Baghdad with Mallowan, and involves an archaeologist as the heroine's love interest.
Miscellaneous
From 8 November 2001 - 24 March 2002, an exhibit named Agatha Christie and Archaeology: Mystery in Mesopotamia, which presented a fascinating look at the secret life of Agatha Christie and the influences of archaeology in her life and works ran in the British Museum. In 1971 Agatha Christie was made a Dame Commander of the Most Excellent Order of the British Empire. She and her second husband, Sir Max Mallowan, were one of the rare married couples to be titled, each in their own right.
In Popular Culture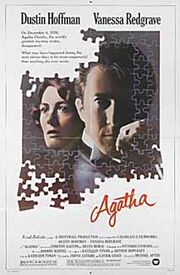 Documentaries
Main article: Documentaries about Agatha Christie
Christie has been portrayed on a number of occasions in film and television. Several biographical programs have been made, such as the 2004 BBC television programme entitled Agatha Christie: A Life in Pictures, in which she is portrayed by Olivia Williams, Anna Massey, and Bonnie Wright.
Fictional works featuring Agatha Christie
Main article: Fictional works featuring Agatha Christie
Christie has also been portrayed fictionally. Some of these have explored and offered accounts of Christie's disappearance in 1926, including the 1979 film Agatha (with Vanessa Redgrave, where she sneaks away to plan revenge against her husband) and the Doctor Who episode The Unicorn and the Wasp (with Fenella Woolgar, her disappearance being the result of her suffering a temporary breakdown due to a brief psychic link being formed between her and an alien). Others, such as 1980 Hungarian film, Kojak Budapesten (not to be confused with the 1986 comedy by the same name) create their own scenarios involving Christie's criminal skill. In the 1986 TV play, Murder by the Book, Christie herself (Dame Peggy Ashcroft) murdered one of her fictional-turned-real characters, Poirot. The heroine of Liar-Soft's 2008 visual novel Shikkoku no Sharnoth: What a Beautiful Tomorrow, Mary Clarissa Christie, is based on the real-life Christie. Christie features as a character in Gaylord Larsen's Dorothy and Agatha and The London Blitz Murders by Max Allan Collins.
Christie has also been parodied on screen, such as in the film Murder by Indecision, which featured the character "Agatha Crispy".
Adaptations of Christie's works
Main article: Adaptations of Agatha Christie
Agatha Christie's works have been widely adapted, starting from a silent film The Passing of Mr. Quinn in 1928 and continuing into the present day. Adaptations have been made in a wide range of media from cinema films, television, radio to anime and computer games and in countries such as Germany, France, Russia, Japan and India.
Derivative works
A number of authorised fictional works and spin-offs have also been produced. These typically use characters created by Agatha Christie with wholly original plots.
Commemoration of Agatha Christie
Main article: Commemoration of Agatha Christie
The life and works of Agatha Christie are commemorated by a wide range of venues, events and artefacts. Many are to be found in Devon, her home county, but also in London and other places where she spent part of her life.
List of works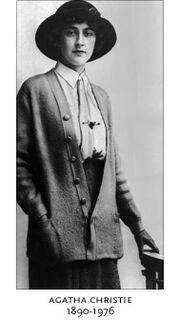 For full details of Christie's body of work, see these related pages: