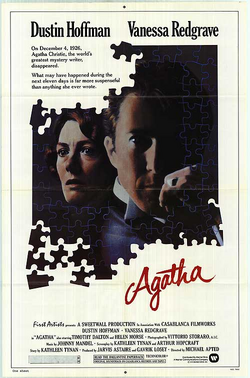 Agatha is a 1979 drama thriller film directed by Michael Apted, starring Vanessa Redgrave, Dustin Hoffman and Timothy Dalton, and written by Kathleen Tynan. The film focuses on renowned crime writer Agatha Christie, offering a theory as to her still unsolved 12-day disappearance in 1926.
Plot
When her husband Archibald "Archie" Christie (Timothy Dalton) confronts her with his affair and demands a divorce, crime writer Agatha Christie (Vanessa Redgrave) tells him that she fears for her life and promptly vanishes. She signs into a Harrogate hotel under the name of a relative of Archie's lover and, as the country flies into a frenzy of rumour regarding her disappearance, secretly plans a dark revenge against him that can only be averted by Wally Stanton (Dustin Hoffman), an ambitious American journalist who falls in love with her.
Cast
Dustin Hoffman as Wally Stanton
Helen Morse as Evelyn
Celia Gregory as Nancy Neele
Paul Brooke as John Foster
Timothy West as Kenward
Tony Britton as William Collins
Alan Badel as Lord Brackenbury
Robert Longden as Pettelson
Donald Nithsdale as Uncle Jones
Yvonne Gilan as Mrs. Braithwaite
Sandra Voe as Therapist
Barry Hart as Supt. MacDonald
David Hargreaves as Sgt. Jarvis
Tim Seely as Capt. Rankin
Jill Summers as Nancy's Aunt
Christopher Fairbank as Luland
Liz Smith as Flora
Peter Arne as Hotel Manager
D. Geoff Tomlinson as Hotel Receptionist
John Joyce as Hotel Waiter
Irene Sutcliffe as Dress Shop Manageress
Ann Francis as Jane
Hope Johnstone as Royal Baths Clerk
John Ludlow as Royal Baths Clerk
Ray Gatenby as Official at Literary Luncheon
Hubert Rees as Official at Literary Luncheon
Tommy Hunter as Pierrot
Pamela Austin as Pierrot
Bert Ward as Pierrot
Harry Segal as Pierrot
Howard Blake as Hotel Trio
Jim Archer as Hotel Trio
Reginald Kilbey as Hotel Trio
Jonathan Benson as Head Waiter (uncredited)
Harry Fielder as Policeman (uncredited)
Stan Richards as Hotel Porter (uncredited)
Production
Kathleen Tynan began researching the project as a BBC documentary. During her research she told producer David Puttnam about it and he suggested it be turned into a feature film. The Agatha Christie estate opposed the movie and tried to get it stopped.
Reception
Agatha was generally very well received by critics, and maintains an 82% rating on Rotten Tomatoes. Not all critics liked the movie, however. Roger Ebert of the Chicago Sun-Times gave the film two and a half stars out of four and told readers that the relationship between Christie and the American journalist "isn't real. It's never for a moment deeply felt -- it's just deeply acted."