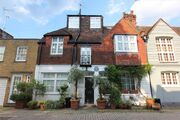 22 Cresswell Place, London was the home of Agatha Christie which Agatha Christie bought and lived in for a time in the 1920s. She bought the house in 1929 shortly after her divorce with the proceeds from the sales of her books and never sold it for the rest of her life. 22 Cresswell is a mews house in Chelsea which Christie renovated and converted into a comfortable house for herself, her daughter and her secretary/governess Charlotte Fisher. The house originally had a stable (being a mews house). Christie had it redesigned with a large room downstairs. Upstairs was a tiny kitchen, dining room, bedroom and there was a "marvellous green bathroom painted with dolphins."[1] Among her other additions is a writing room, a rectangular block which can be seen perched on top of the house. [2]
In 1929, Christie lent the house to archaeologist Sir Leonard Woolley and his wife who were back in London. Christie had earlier met them when she visited their excavation at Ur. The Woolleys invited Christie to their excavation at Ur again and on her second visit there, she met Max Mallowan.
The novella Murder in the Mews is believed to have been inspired by the house at Cresswell Place.
A blue plaque on the facade of the house commemorates the fact that Agatha Chrisite lived there.
References
↑ Laura Thompson, Agatha Christie, A Mysterious Life (London: Headline, 2007), 242, ebook edition.
↑ Edel Morgan, "One of Christie's finest plots...," Irish Times, 1 Aug 2013. URL or Archive URL